Power Rippers are a fusion of vehicles, battle tops and action figures in one. These brand new, no batteries required racing and battling toys can race up to 500 scale MPH. They can battle each other and do crazy stunts, jumping up to 10 feet high. Each of these new collectible Power Rippers can transform and each is armed with either teeth, stingers, a battering ram or saw blades.
We were sent the Power Rippers 2 in 1 Competition Set (RRP £29.99) and the Power Rippers 2-Pack (RRP £9.99) to put to the test. The competition set comes with its own carrying case and includes a 2 lane track set and a Power Ripper and ripcord. The Power Rippers 2-Pack contains two collectible Power Rippers and their ripcords. Power Rippers are suitable for ages 8+.
Each Power Ripper is a little vehicle which is powered by a ripcord you pull in and out rapidly to fire up the engine. You can release it onto the track and it can race and loop the loop. You can race them against each other. There are no batteries needed so they're really easy to set up and go.
The competition set comes in a bright green carry case which is packed full of track. There are lots of ways to play with the Power Rippers, you can design your own track if you want, but we followed the design in the instructions. The track is pretty easy to connect together and there are so many different configurations you can try, just use your imagination. Just power up your Power Ripper and watch it loop the loop and race along your track.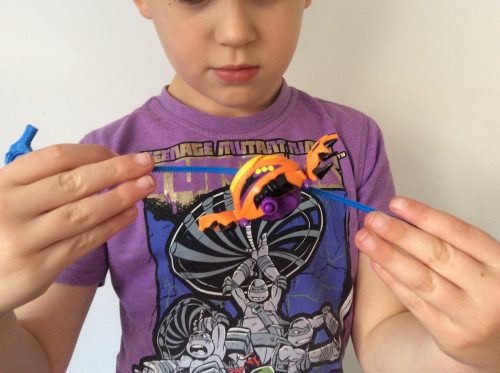 On the other side of the carry case there is a battle arena. You close the flaps on your Power Ripper; power them up with the ripcord and send them down the slope to do battle in the arena. They spin fast, banging into each other. The flaps pop open and bash your opponent in a way that reminded me a little of Robot Wars. The battle mode is great fun and was perhaps our favourite way to play with the Power Rippers.
Once you've finished playing, everything gets neatly packed away in the carry case. It's very neatly designed, which I like.
It can be a little tricky at first to get the hang of powering up your Power Ripper and setting it on the track. Make sure you have quite a few practice runs first. We all enjoyed playing with the Power Rippers. We loved how fast they zoomed along the track and the way they sprung open when they bashed against each other in the battle arena.
For more information about Power Rippers, visit their website.
We were sent the Power Rippers for review purposes. All images and opinions are our own. This post contains affiliate links.