In real life, bears are such ferocious creatures that we are warned to steer well clear of them. But in the world of children's fiction books, you'll be hard pushed to find a better friend than a bear. I've picked out five classic books about bears, I've probably missed some really important ones, but these are my bear necessities of children's books about bears.
Five Classic Books About Bears
Brown Bear, Brown Bear, What Do You See? is a classic picture book by Eric Carle and Bill Martin Jr. It is wonderfully rhythmic and is packed full of Eric Carle's beautiful and iconic illustrations. It's a great way to get pre-schoolers talking about animals and colours. Plus you're guaranteed to get "brown bear, brown bear" stuck in your head.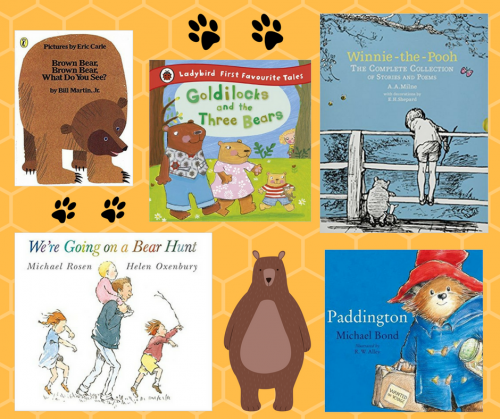 Goldilocks and the Three Bears – there are many versions of this 19th century fairy tale, but it's the classic tale of Goldilocks, a girl who finds a cabin in the woods belonging to the three bears. She can't help but creep in and explore – she sits in their chairs, eats some of their porridge, and sleeps in one of their beds. When the bears return and discover her, she jumps up, runs out and is never seen again. Goldilocks and the Three Bears is a classic which will never go out of fashion!
Paddington by Michael Bond has recently been made into a hit film, but the book is always worth returning to. This friendly bear from deepest, darkest Peru, dressed in a blue duffle coat and wearing a hat stuffed with marmalade sandwiches. Paddington has become a classic character in English children's literature. These beautifully illustrated, easy reading books make the perfect bedtime story to share with your children.
We're Going on a Bear Hunt by Michael Rosen and Helen Oxenbury is undoubtedly a modern classic. The story follows a family on an adventure, through swishy-swashy swathes of grass and across muddy fields. They get a bit wet and a bit cold, and when they finally find a bear, they're a little bit scared. I always feel a bit sorry for the bear at the end, I think all he wants is a friend. It's a beautiful story, fantastic to read and the textures of the grass, the mud and the wind are so evocative and great talking points for you and your child.
Winnie the Pooh by A.A. Milne is such a classic, no books about bears collection should be without him. This adorable and quietly wise bear is loved by adults and children alike. There are a million different Winnie the Pooh books available; from pop-up books to philosophy books for adults; but you can't get any better than the original.
These classic books about bears are to my mind, essential reading for children and adults alike. There's something friendly and cuddly about these bears, some of them are a bit edgy, but on the whole they just want to be your friend. Have I left any classic bears behind?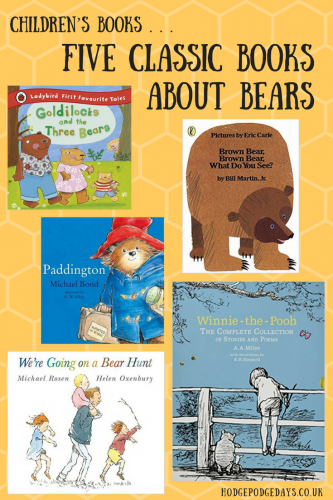 This post contains affiliate links.