Last year I discovered that I had a fungal nail infection and it was not pretty. I tend to keep my toenails painted, and being somewhat lazy I have previously just painted over the old coat with a new coat and only very rarely taken the nail varnish off. This was my first mistake. I don't know where I picked up my fungal nail infection from, but I know that repeatedly painting over my nail meant I didn't notice the first signs of infection until it was too late.
My first port of call was to find out what the hell was wrong with my big toe nail. A quick internet search revealed that I had a fungal nail infection. The only thing I could do was to hot foot it to the chemist and speak to the pharmacist. They recommended Canespro Fungal Nail Treatment, which cost me £19.99, which is not cheap, but I was hopeful of a cure.
The Canespro Fungal Nail Treatment kit contains one 10g tube of urea ointment, 22 specially designed waterproof plasters and one plastic scraper. The instructions are clear and easy to follow. So follow them I did.
I began by removing as much of the infected nail as possible. This wasn't difficult; within a couple of days of me realising my nail was infected, part of it had detached itself and begun to curl (sorry for TMI). Using sharp nail scissors and a bit of bravery, I removed as much as I could. I carefully filed the rough edges and discarded that nail file as it was now contaminated.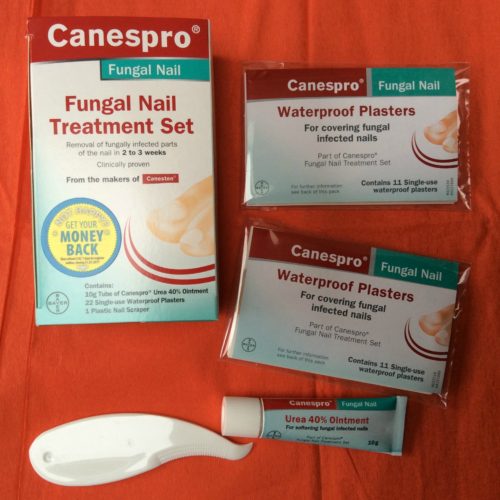 Over a period of 2-3 weeks I used the cream on my nail. This softened the infected part of the nail. Once you've applied the cream you need to cover your nail with one of the plasters. Every other day or so after that, use the scraper to remove the softened, infected part of the nail. The only way to clear the infected part of your nail is to remove them, this also stops the infection spreading to other nails too.
I did lose about three quarters of my nail; but the infection didn't spread and my nail has grown back just fine. I hope to never get another fungal nail infection again; but if I do I know that although it's not pretty, it's not the end of the world and it can be treated.
If you find yourself with a fungal nail infection, then do speak to your pharmacist. Chances are they'll recommend the Canespro Fungal Nail Treatment kit anyway, but it's always good to get a professional opinion. Fungal nail infections are more common than you'd imagine, and I promise that with a little bit of TLC your nails will be back to their former glory before long.
Note: I was sent a Canespro Fungal Nail Treatment kit to tackle any future fungal nail infections. All images and opinions are my own.