AD – we were sent a CarGoSeat for review purposes. All images and opinions are our own.
With the holiday season upon us, we've been busy planning a summer of gadding about. Sure, we won't be flying off on a world tour anytime soon, but we have a couple of short breaks booked which we hope to go on. The first of which is a trip to Ribby Hall in Lancashire, which seems the perfect time to put our new CarGoSeat through its paces.
The CarGoSeat is a great new car seat which combines a group 3 booster seat with a suitcase. The CarGoSeats have 10L of storage capacity, which is great for kids who want to pack their own case for a getaway. The case itself is lightweight which means kids can easily wheel it along with them on their travels.
The CarGoSeat is fully tested to the highest EU safety regulations (ECE R44/04 regulation safety standards) and has been rigorously crash tested. It also comes with a 12 month warranty. It is available in a range of colours, blue, green, purple or pink. We went for the blue which was popular with the boy; and it's just the thing to take some books and toys away in for our little holidays this summer. It costs £49.99 and would be a good thing to have to save on car seat hire on holidays abroad.
It is really easy to fit and if you open the case there is an instruction booklet if you get stuck. It's really well designed and you can tuck the seat-belts away inside the case when you're using it as a suitcase. The seat is padded and comfortable and is suitable for children who are 125cm or taller and weigh 22-36kg. The seat pad is washable and the rest of the CarGoSeat is made of plastic; so it's great for wiping down any spills you get in transit.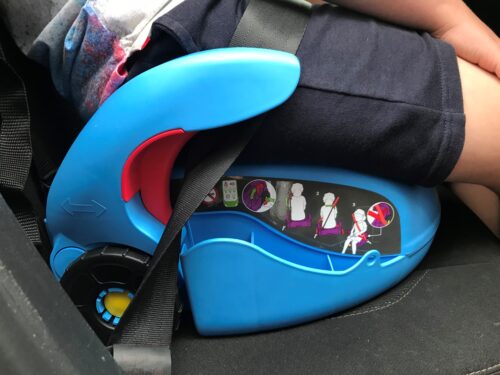 What I liked about this is it's well built but lightweight; so it's ideal as a spare booster seat if we are taking extra kids out for the day. I thought it was excellent value for money. The boy was thrilled and wanted to start packing for our next getaway (in a month, he's excited).
We really liked the CarGoSeat. It's ideal for short breaks and getaways. My son is really excited about having his own luggage; and he thought the seat was comfortable and pretty cool too. I liked the bright colour and how lightweight it was. I feel a bit more ready for my holiday now, just need to pack some suncream!
For more information about the CarGoSeat or to buy your own, visit their website.