Christmas is a time for traditions and we love a festive day out, or a trip to a Christmas carol concert or two. In Manchester we have lots of great venues within easy reach of our home and they always offer an exciting and varied selection of Christmas musical shows. I've picked out 11 places to hear Christmas music in Manchester this year.
11 Places to hear Christmas music in Manchester this year
Handel's Messiah – Manchester Camerata, Gorton Monastery, December 4th, 3pm
Start your festivities with this most beloved of masterpieces. After the success of last year's sold out show, Manchester Camerata is back with another stunning performance of Handel's Messiah by candlelight in the epic setting of the Great Nave of the Monastery. Dating back to 1742, the power and the beauty of Handel's rousing Hallelujah chorus will engulf the incredible natural acoustics of the space. The performance will transport audiences back in time away from modern distractions to allow for a moment of stillness, rejuvenation and joy before the holiday period. Book your tickets here.
Manchester & Districts Hospital's Choir Christmas Carol Concert – Bridgewater Hall, December 5th & 6th 7.30pm
Choirs from around Manchester consisting of, in the main, medical and nursing staff who have given up their time to rehearse and sing in this Carol Concert. Ample opportunity, also, for audience participation in many old favourites to help herald the arrival of Christmas. As well as enjoying yourselves the principle purpose is to raise money for CLIC Sargent Young Lives vs Cancer. Book your tickets here.
Festive Happening – Manchester Camerata, Albert Hall, December 11th, 3pm
To close out the year, Manchester Camerata present what has become a Christmas tradition with their annual Christmas celebration with the AMC Gospel Choir. Start of your festivities with this incredibly uplifting and moving concert for the whole family. Book your tickets here.
Claus The Musical – The Lowry Theatre, December 14th – January 8th
From the writer of The Wonderful Wizard of Oz comes the world premiere of Claus The Musical. Based on the beloved children's book The Life and Adventures of Santa Claus by L. Frank Baum, this brand-new musical is as magical as Christmas itself. Book your tickets here.
Midwinter Revels, Waterside Arts Centre, December 16th, 7.30pm
Following on from A Christmas Carol: In Concert and A Brief History of Christmas, GreenMatthews present their new festive show – Midwinter Revels. Spanning several centuries, this is a musical celebration of Yuletide past guaranteed to warm the cockles of the most Scrooge-like heart. Featuring Christmas carols, winter folk songs, toe-tapping tunes and a plethora of weird and wonderful instruments, the show is brought to life with their trademark wit and humour. Book your tickets here.
Syd Lawrence Big Band Christmas, Stoller Hall, December 17th, 7.30pm
Renowned for it's exciting blend of high octane Big Band Swing and Classic Dance Music, the Orchestra's repertoire ranges from the wartime million sellers of the legendary Glenn Miller through the era of the great Count Basie Orchestra to the hit songs of Frank Sinatra and Ella Fitzgerald. Count Basie himself described the Syd Lawrence Orchestra as "So good it should be BANNED!". Book your tickets here.
Away in a Manger, Stoller Hall, December 18th, 4pm
Kantos are back with their annual, sell-out, festive concert, featuring a ceremony of carols old and new. Performing both world premieres and well-known Christmas favourites to add your voice to, this cosy choral afternoon is the perfect way to kickstart your festivities. A fantastic option for classical music veterans and first-time concertgoers alike! Families and children welcome. Book your tickets here.
Carols at Manchester Cathedral, December 20th, 6.30pm
An evening of singing, fun, merriment and reflection, celebrating the incredible work of the people and community groups who work hard throughout the year to ensure ageing adults are kept happy, healthy and connected to loved ones. Book your tickets here.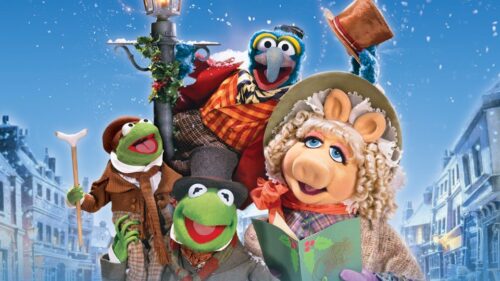 The Muppet Christmas Carol – Bridgewater Hall, December 21st, 3.00pm
Disney's The Muppet Christmas Carol will be presented live in concert this winter at The Bridgewater Hall, featuring its musical score performed live alongside the film. The Muppet Christmas Carol sees The Muppets perform the classic Charles Dickens holiday tale, with Kermit the Frog playing Bob Cratchit, the put-upon clerk of stingy Ebenezer Scrooge (Michael Caine).  Gonzo, as Dickens, narrates the story with the help of Rizzo the Rat. The film also features Miss Piggy as Emily Cratchit, Gonzo as the narrator Charles Dickens, Fozzie Bear as Fozziwig, and Robin the Frog as Tiny Tim. Book your tickets here.
Swing into Christmas, Stoller Hall, December 22nd, 7.30pm
Celebrate the festive season in style with the vocalists and instrumentalists of Down for the Count Concert Orchestra, as they Swing Into Christmas. This is a Christmas celebration like no other, as Down for the Count recreate the music of Nat 'King' Cole, Billie Holiday, Ella Fitzgerald, Frank Sinatra and many more in a luscious 25-piece orchestral setting evoking the sounds of the great Capitol Studios recordings. Book your tickets here.
The Nutcracker – Bridgewater Hall, January 2nd & 3rd, 5.30pm
The most famous fantasy ballets for all the family begins as night falls on Christmas Eve.  As snowflakes fall outside, the warm glow of the open fire sends flickering shadows across the boughs of the Christmas tree and all the presents beneath. When midnight strikes we are swept away to a fairy-tale world where nothing is quite as it seems, toy dolls spring to life, the Mouse-king and his mouse-army battle with the Nutcracker Prince and we travel through the Land of Snow to an enchanted place where the magic really begins… Book your tickets here.
There are lots of places to enjoy Christmas music in Manchester this year. If I've missed any, please comment below and I will add them. Merry Christmas!