I think most parents are keen to help, push, coax and encourage their children to try their best to do well at school. Part of that is sitting with them while they do their reading, helping them with homework, doing educational activities with them and working with their teacher to encourage them to be the best that they can be.
Yesterday was parents evening. Whilst my boy is as bright as a button, he's not always first with his hand up in class. He needs lots of encouragement to be the best that he can be. We already do lots of reading and educational activities at home with him, but we are working with his teacher to try and develop his motivation and to push him along a little bit.
This week we've been trying to find new ways at home to make him feel that learning is exciting. We logged on to Education Quizzes, clicked on KS1 and got quizzing. He loves playing games, so if he feels like whatever he's doing is part of a game then he's all over it.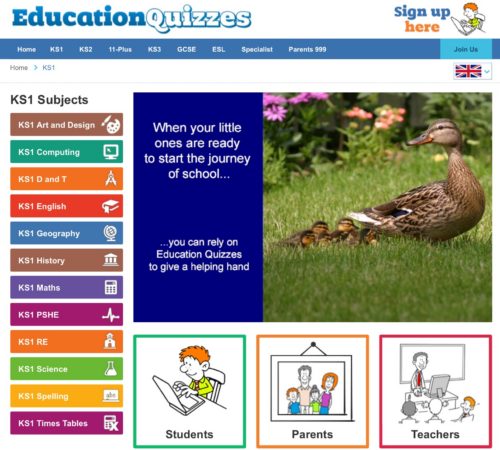 The idea behind Education Quizzes is to help children to be more successful at school. By quizzing them on areas of the curriculum, the website helps learning seem more enjoyable. What's more, it's easy and we found it to be a great way to go over what he's already learned at school; helping to build his confidence and show him how far he has come.
The quizzes are written by teachers and the quizzes are based on the National Curriculum. They are split into sections – KS1, KS2, 11-Plus, KS3 and GCSE quizzes and cover all the core subject areas. We had a good look at the KS1 options, as that's where he is right now. KS1 is split up into different curriculum areas. We started working our way through the KS1 Maths quizzes. He loves maths, so this seemed a really good place to start.
He needed a little bit of help reading some of the questions, but he really enjoyed working through the quizzes with me. It really did help to show him how far he has come and just how much he knows. Confidence is everything for him I feel.
He has enjoyed doing the KS1 Education Quizzes so much he keeps asking for me to put them on the iPad for him. I'm very happy to oblige. I think it's a useful website, especially for revision purposes. Our kids are tested every step of the way throughout their educational careers. Being used to taking quizzes and tests is a useful discipline.
Subscription is monthly, costs £9.95 and it can be cancelled at any time. Education Quizzes go from KS1 right up to GCSE. So wherever you are there will be a quiz every step of the way. Looking back, I wish I'd had access to something like this when I was doing my GCSE's. It's an excellent revision tool.
For more information about Education Quizzes, visit their website.
This is a collaborative post.