We were given the That's Magic Big Box of Magic Set for review purposes. All images and opinions are our own.
Growing up I was aware that I was enjoying an especially magical childhood. My Dad was a magician and every week he would host Thursday night get togethers in our house, where his friends would practise their magic tricks on us. My brother and I spent many evenings, sat in our pyjamas watching ladies being sawn in half, rabbits be pulled out of hats, and we marvelled at magic tricks large and small.
Sadly my Dad died five years ago, and my son has missed out on all the magic he could have shown him. I am not very magical, but I am very enthusiastic about magic, so we launched into the That's Magic Big Box of Magic Set with gusto!
The That's Magic Big Box of Magic Set contains a massive 325 amazing illusions and tricks. You can make objects disappear, reappear and even transform in your 'bare hands'. You can make coins travel from one magic cup to another 'invisibly'. Not only that, but you can learn an array of exciting card tricks to fool all the family!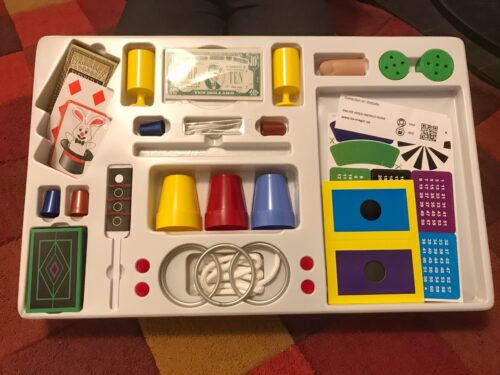 The 325 easy to perform tricks are supported by online instructional videos. You just scan in the QR code provided and away you go. You will need some everyday household objects to complete some of the tricks; e.g. cotton thread, spoon, pencil, paper etc.
The tricks inside this pretty comprehensive box range in difficulty; my son (who is dyspraxic) picked up the linking rings almost instantly, and the look on his face was priceless. He then spent half an hour or so mastering it so it looked seamless. I confess it brought a nostalgic little tear to my eye.
The magic set comes with a 48 page instruction manual, so you can learn how to do each trick step by step. Each set of instructions has some photos alongside them so you can see what your trick should look like. If you get stuck, you can always visit the website and watch the video on how to pull off your trick successfully.
Remember that with most things, practice makes perfect, but this applies doubly so with magic! And it's worth remembering that the secret to a successful magic trick isn't just in how you do it; but it's also in keeping how it's done a secret too!
What is especially pleasing to me, is that it's not just any old magic set; it's officially approved by FISM, the Fédération Internationale des Sociétés Magiques – the international body bringing together the world's leading magic societies, which is a mark or real quality and approval, in magic circles at least.
We loved this magic set. It is incredibly comprehensive, with a fantastic range of magic tricks to try your hand at. It's aimed at ages 7+, but I think it's pretty bang on for my 11 year old.
The That's Magic Big Box of Magic Set is currently available from Amazon for £25.03 which I think is a pretty incredible price for a set this big and well thought out. The ideal gift for any budding magician.
WIN A That's Magic Big Box of Magic Set
To be in with a chance to win a That's Magic Big Box of Magic Set, simply complete the Rafflecopter widget below. Good luck!
Check out our other giveaways over on our competitions page.
Terms & Conditions:
1. The competition is open to residents of the UK only aged (18) and over.
2. The prize is non-transferable and no cash alternative is offered.
3. To enter, please use the Rafflecopter widget above, complete any mandatory entries and any optional entries you would like.
4. The winner will be chosen at random from all valid entries.
5. The winner will be sent a That's Magic Big Box of Magic Set.
6. The closing date for entries is 11.59pm GMT on 16th January 2022.
7. The winner will be contacted within 7 days of the closing date.
8. The winner will be asked to provide a full UK postal address with postcode for delivery purposes.
9. The winners address, contact details and email address only be shared with the PR to enable to prize to be sent to the winner.
10. The winners name will be available on request.
11. Entry to this giveaway confirms that participants have read, understood and agree to be bound by these Terms and Conditions.
12. HodgePodgeDays decision is final in all matters relating to this giveaway.