With the new Marvel film, Thor: Ragnarok being released later this month, we've been taking a look at some of the toys and merchandise from the film. Hasbro have recently unveiled their range of toys to coincide with the release; including the Hulk Out Mask, Hulk Smash Fx Fists and Thor Rumble Strike Hammer.
The Thor: Ragnarok Hulk Out Mask (£24.99) is a heavy duty Hulk mask with chin activated eyebrows. The mask has really good adjustable straps and is suitable for children aged 5+. I have quite a small head so it could fit me too. There is padding around the eyes and a chin paddle which you operate by opening your mouth. Pressing the paddle down with your chin opens the mouth and wiggles the eyebrows.
The wiggly eyebrows are what makes this mask for me. When you wiggle them, Hulk looks really angry, which makes me giggle. The mask doesn't make any noises and doesn't require batteries, so you do need to make your own Hulk sound effects, which is the best part.
My son (aged 6) loved the look of the mask but wasn't that keen on wearing it, saying it squashed his nose a bit. I tried it on and it was fine for me and I have a much bigger nose and face than him. I do think it looks cool and would look brilliant if worn as part of a Halloween costume.
The Thor: Ragnarok Hulk Smash FX Fists (£33) set includes 2 fists which are perfect for Hulk smashing. There is one standard fist and one electronic fist which has three ways to smash and activate Hulk sound effects.
You can punch the air to set off the motion-activated whooshing and punching sounds, or punch down on a hard surface to activate the smash sounds and growling. If you continue to punch the surface repeatedly you will make the smash and roar effects noisier and wilder.
The Hulk Smash FX Fists are suitable for ages 5+ and come with demonstration batteries included, so they're good to go as soon as they're out of the box (you'll need 2 AA batteries at some point to replace them though).
There is a warning (which bears repeating), not to punch or swing at people or animals and to use away from breakable objects. Although these are made from robust foam, if swung with enough force they could do a bit of damage. The battery compartment on the electronic fist is disguised as a glove which Hulk wears in the Thor: Ragnarok film
The fists come with an internal strap which you grip. Obviously they're designed for children, but I had no trouble using them and didn't find them too small (maybe I just have tiny presidential hands). The Hulk Smash FX Fists were a really big hit and we all really enjoyed playing with them. Out of the three Thor: Ragnarok toys, this was by far our favourite!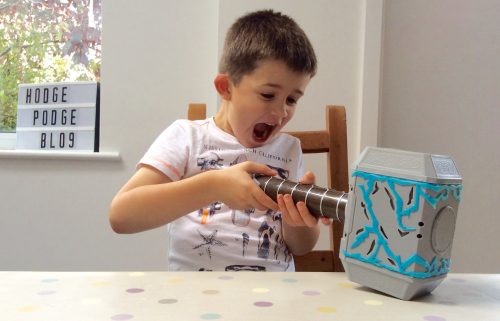 Lastly there is the Thor: Ragnarok Thor Rumble Strike Hammer (£19). This hammer is designed to look like the mighty Mjolnir from Thor: Ragnarok. It features spring-activated sound effects, which means there are no batteries required.
The Rumble Strike Hammer looks very similar to Thor's Hammer but has rubber ends; so in theory it should do no damage if you get bashed with it. However if you get accidentally thwacked with the hard plastic sides of the hammer, it does hurt (speaks from experience).
The hammer is really sturdily made and the crashing sound effect is good, if a little samey. It is great for role playing and my son loved it; I just felt it was a little one dimensional, especially for the price.
Hasbro have some really interesting Marvel Thor: Ragnarok Toys available. Each of us liked different toys for different reasons. I loved the mask and my son and husband loved the Hulk Smash fists and Thor's Hammer, so there really is something for everyone. Any one of these would make a great present for a Thor or Hulk fan this Christmas.
If you love Thor, you might also like this – Meet the new Schleich Marvel Thor Figurine.
Disclosure: We received these Hasbro Marvel Thor: Ragnarok Toys for the purposes of writing this review, all opinions and images are our own. Contains Amazon affiliate links.