A brand new range of toys from the makers of the popular kids app – Animal Jam has recently been launched, you might have seen the adverts for Animal Jam on TV already. If you've not heard of Animal Jam yet, then be prepared to know everything about it by Christmas!
Animal Jam is the number one online social game for kids and it was created in association with National Geographic. The app is free to play and has over 45 million registered users around the world – three million of them  in the UK.
Created in partnership with National Geographic, Animal Jam combines role playing and anthropology to make an exciting educational game for kids. Players can collect fun facts in their journey books, learn about animal conservation and talk to real scientists.
These toys will be instantly recognisable for fans of the app. Animal Jam has been brought to life with this brand new collection of toys. They are collectable and all come with exclusive codes to unlock  content and other special  features  inside the online game.
We were sent a selection of the collectable toys to try out, here's a little run down of what we tried and what we liked…
The Animal Jam Adopt a Pet (Series 1)
These are little pets which come with their own kennel (or dens as they are known in Animal Jam). Each kennel is home to a collectable pet and two accessories. You can customize your pet with accessories and stack the kennels to display your pets. There are 96 of these to collect and they cost just £2.49 which makes it a great pocket money treat. The boy really loved his kennel and out of everything he enjoyed playing with this tiny toy the most. A hit!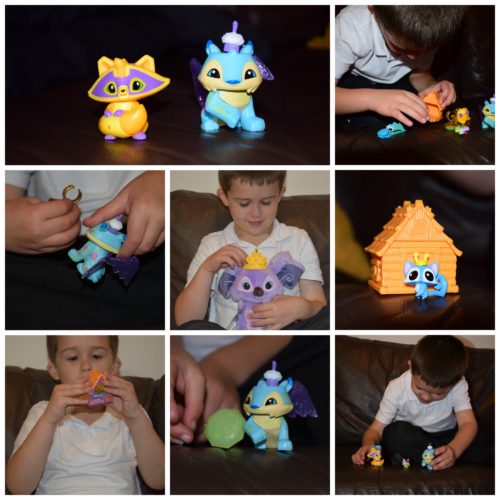 ANIMAL JAM – Friends with Pet
The Friends with Pet costs £4.99, you get a 3 inch figure, a 1 inch friend and three interchangeable accessories. I think this is a great value set, it looks like it should cost more than it does and it would make a great party present for a little Animal Jam fan. We got the Posh Raccoon and Pet Kitty and they are very sweet.
ANIMAL JAM – Light Up Friends with Ring
Another great party present is the Light Up Friends with Ring. These are collectable 3" animal figures and have secret patterns, two interchangeable accessories and a light-up ring. These sets cost £7.99, we were sent the Lucky Lynx and the real hit for the small boy was the light up ring.
ANIMAL JAM Plush characters
These cute plushes cost £7.99 and are 7 inches tall. There are several plush characters to choose from – Panda, Koala, Bunny & Monkey. We were sent the purple Koala and he is  super-soft and very huggable.
Since we received these toys the small boy has suddenly seen Animal jam everywhere, we've downloaded the app and used the codes which came with the toys to unlock parts of the app. It's fair to say that this had opened up a new line of interest for him, which is great.
The app is free and the accompanying toys are nicely priced, not too expensive and great for either pocket money (or stocking filler) treats, as well as being good options for birthday party presents for classmates etc. They are suitable for ages 5+ and would be a great little gift for any Animal Jam fan this Christmas.
We were sent these toys for review purposes. All images and opinions are our own.