This week I've noticed a hint of spring in the air. The evenings are much lighter, the trees are starting to get blousy with blossom and everything just feels a bit hopeful. With a spring in my step, I met my friend Bob for lunch at Jamie's Italian Manchester. He's moved away, so we don't get to see each other as often as we'd like, so we were ready for a proper catch up.
We arrived at Jamie's Italian Manchester, a huge grade II listed building on King Street in the city centre. Inside it's imposing and grand, with dark wood and marble everywhere. It's a beauty.
We were shown to our table and we checked out the Super Lunch menu. Since I was last in the menu has had an update to keep pace with the changing seasons. The super lunch menu is a hearty mixture of winter warmers and vibrant spring flavours. It's keenly priced at £12.95 for two courses, or three courses for £14.95. It is available 12-6pm from Monday-Friday.
To start I plumped for the Tomato Bruschetta made with slow-roasted cherry tomatoes, buffalo ricotta, basil and extra virgin olive oil. I'm a sucker for ricotta, so this was a deliciously light start to the meal. My only tiny quibble was that the tomatoes still had some fresh from the fridge chill to them. I'd prefer them closer to room temperature, but that's me being very fussy.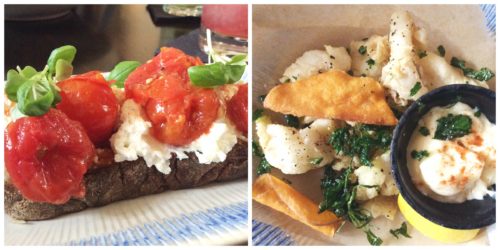 Bob opted for the Fritto Misto, crispy fried sustainable fish & squid tossed in fennel-spiced flour with garlic and lemon aioli. This was a hit, the aioli was perfectly garlicky and the delicate fish well cooked. There wasn't quite enough squid for his liking, but the plentiful helping of chunky fish made up for that. This is a dish he would order again.
Moving on to the mains, there were only two veggie options and only one I was able to eat, so that's what I had, the Classic Super Food Salad, a combination of avocado, roasted beetroot, mixed pulses & grains, sprouting broccoli, pomegranate and spicy seeds with harissa dressing & cottage cheese. To say it was delicious is an understatement. Every forkful was bursting with flavour. I couldn't fault it and despite my initial hesitation over ordering this, I would do again in a heartbeat.
Bob plumped for the Italian Steak and Fries, marinated skirt steak, flash grilled & served with garlic butter, aged Parmesan, slaw and fries. This had a £3 supplement. The skirt steak was heavily topped with garlic butter with one side seared on the grill, Bob thought it was a good steak, though not the best he'd had. However, the skinny fries were perfect, crispy without being overcooked and a good portion size. I snaffled a few and they were good.
I was stuffed after my salad, but we were determined to do the new menu justice, so pudding was ordered. Choosing the light option, I ordered the Blood Orange Sorbet, which was topped with fresh mint and lime zest. It's not listed as suitable for vegetarians on the Super Lunch Menu, but I checked and it definitely is. The sorbet was so good, it was just about perfect and the flavours in the citrusy sorbet were enhanced by the mint and lime, and it was only 72 calories too.
Bob still had some room, so he ordered the Epic Chocolate Brownie with chocolate sauce, salted caramel ice cream and caramelised popcorn. It looked spectacular, he kindly let me try a corner. I'm not usually a fan of brownies, but it had a lovely crispy top and it was a very, very good brownie. I loved the ice cream, but the popcorn was the winner for me. It was a fine end to our lunch.
We had both had a cocktail, soft drinks, a three course lunch and coffee. Our lunch time treat came in at a few pence over £56. We both felt it was really good value for what we'd had. I've had lunch at Jamie's Italian Manchester with friends a few times now, and never been disappointed and always impressed with the value and service.
We were invited guests of Jamie's Italian Manchester. All images and opinions are our own.