AD/Complimentary Tickets. Summer to me is picnics in the park, festivals and being outside for as much as I can, weather permitting. I spend so much of the year indoors hunched over a laptop, it seems silly not to spend what I can outside enjoying the fresh air and whatever sunshine Manchester sees fit to provide. With the sunshine starting to put in a more regular appearance; last week I hopped on the tram to Exchange Quay and indulged myself in a bit of open air theatre at Ordsall Hall. I went to see Macbeth performed by Three Inch Fools.
Macbeth was performed in the grounds of this beautiful (I mean really beautiful) Tudor manor house near Media City in Salford. I live in Didsbury, so it's just a really easy tram ride away for me. There's also lots of parking on site if you prefer.
Last year I watched Pride and Prejudice at Ordsall Hall, it was during the heatwave and it was a beautiful evening. This year the weather has been a bit more miss than hit, but on the longest day we were blessed with warm sunshine and a glorious sunset. I was glad I took my big coat though, when the sun tucked itself away behind a building, the temperature quickly dropped.
I arrived and as we had pre-booked a picnic, so I went straight to the cafe to pick up my bag of goodies. An adult picnic bag is £8.95 and contains a sandwich, crisps, a nice drink, a piece of fruit and a slice of homemade cake. You can upgrade your picnic bag with a glass of prosecco for an extra £1. The cafe is lovely and sells very good hot drinks, snacks and cake; so if you've missed out on the pre-booked picnic you can also stock up on goodies there.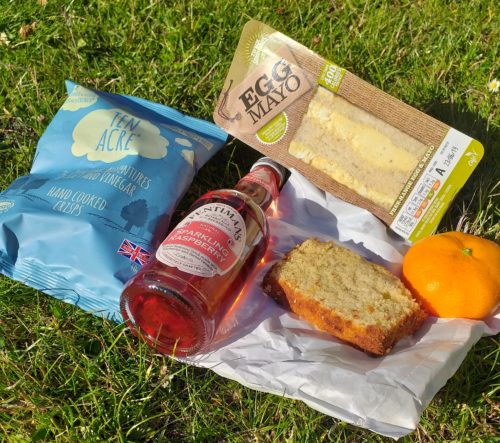 As with most open air theatre, you're best off taking your own camping chair or a good rug to sit on. Most people had their own chairs and I brought mine on the tram, no one stared. I met up with some of my friends who had bagged a spot right next to the stage and we all settled into our chairs, munching on our picnics.
Macbeth was brilliant. The five actors from Three Inch Fools whirled and swirled around the small stage, bringing the story to life and entertaining the crowd. It really was one of the loveliest open air theatre experiences I've had. I was glad I got there early and bagged a seat close to the stage; it really made me feel very close to the action.
The atmosphere at these events is great. It's really chilled out, with the actors sometimes leaping into the audience and in one memorable scene, swigging pimms from the can of an audience member. There's usually an interval too; a chance to pop to the loo and get a hot drink and a snack if you want; or just to explore Ordsall Hall a bit.
A visit to the open air theatre is a lovely thing to do with friends or family. It's a great experience and a slightly more relaxed and casual way of going to the theatre. Ordsall Hall is a really stunning venue and really easy to access too.
Ordsall Hall have a great programme of open air theatre lined up for this summer –
A Midsummer Night's Dream, 21st July
Gangsta Granny, 31st July & 27th August
The Tempest, 3rd August
Much Ado About Nothing, 11th August
Wuthering Heights, 15th August
Disclosure: We were given complimentary tickets and a picnic in exchange for this post. All images and opinions are our own.