In December last year we welcomed a new addition, Penny the sprocker puppy. Despite the date of her arrival, she was not a Christmas present, she was a much longed for member of our family. When she arrived she was so tiny, a little dot of a thing who moved at lightening speed. She quickly made herself at home and now, aged nearly 8 months we can't imagine life without her.
She's cheeky, greedy and rambunctious, but a great friend to us all. When we first got her she was so tiny we couldn't find a dog collar to fit her, so for her first few months with us she wore a cat collar with a bell on it. The bell was actually quite helpful as she had a habit of getting under your feet when you don't expect it. I miss that bell.
Naturally she grew out of her tiny cat collar and needed something a bit more suited to her handsome doggy features.
Meg Heath Dog Leads, are a small, independent business based in Lincolnshire. They specialise in making bespoke handmade dog leads, collars and harnesses as well as long lines, training leads, webbing leads, collars, head collars and their unique car safety lead. All of their products are made from soft, strong and durable cushion web.
Meg Heath Dog leads is owned and run by Sarah Greave, a dog owner and canine rescuer with over 11 years experience in crafting quality, durable, handmade collars and leads.

The Meg Heath website is really simple to use. I knew what I wanted, a simple collar and a sturdy lead to walk Penny. I knew from our previous collar we needed an extra loop to hang her tag on the collar. This is called a double tag collar, it saves you trying to figure out where to hook the tag. Although she is micro-chipped I still think it's worth having a dog tag on her, just in case.
When you order your collar and lead from Meg Heath, you can choose from a number of options. There is a whole rainbow of colours to choose from as well as size and finish options. We went for red as she's always worn a red collar, but I'm slightly regretful I didn't go for something a bit different. Next time I will be braver.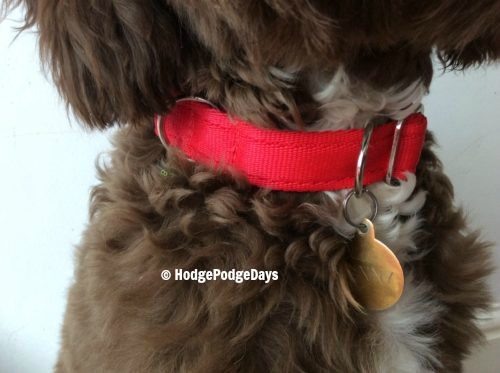 It cost £12.99 for the collar I wanted. I thought this was excellent value as I've seen collars which are much more expensive in pet shops which don't match the quality and the finish of our new Meg Heath one.
I liked that Penny's collar had a nice sturdy clip. There's nothing worse that trying to undo an old fashioned buckle on a wet collar worn by a wriggling dog. The collar was soft and easy to adjust and she looked very smart indeed.
I opted for a matching lead. Although there are a number of different styles of lead available on the Meg Heath website, we just wanted a plain lead to walk her with. If you've got a dog who pulls or needs a training lead, or perhaps a special safety lead for in the car, Meg Heath have all of these options and more.
The dog lead we chose cost £11.90 and was made to the same high standards as the collar. This was a simple lead with an O ring on the handle. The O ring makes it easier to put over your shoulder while your dog is off the lead.
The lead was very comfortable to hold, sometimes I find dog leads to be quite abrasive in my hand, but this was fine and it was very comfortable to walk her with.
Meg Heath Dog Leads & Collars – The Verdict
We were very impressed with the quality of the Meg Heath Dog leads and collars. They are very well made, the fixtures are smooth and snag free and they seem comfortable for Penny to wear and are comfortable for us to walk her with too.
The collar and lead look very smart and are easy to keep clean. We are all happy with her new collar and lead and we'd recommend them if you're looking for a well made, comfortable collar and lead for your dog.
For more information about Meg Heath dog leads and collars, visit their website.
Note: We were sent the dog lead and collar from Meg Heath for review. All images and opinions are our own. Our images may not be used without our permission.