If there's one thing the boys in my house will always eat with gusto, it's meatballs. I always like to have a packet in the freezer for an emergency dinner of spaghetti and meatballs, but I use them in other things too. They favour a meaty meatball, whereas I always have a packet of Quorn meatballs so I can join in the meatball fun. This week I had a gaggle of the smallish boy's friends over, so I whipped up a batch of my Melting Meatball Pizza Puffs to feed the crowd.
These Melting Meatball Pizza Puffs took me ten minutes to throw together and twenty minutes to cook. They're the perfect satisfying meaty snack for on the go kids and adults. They're so easy to throw together and really hit the spot, especially if the spot likes meaty, pizza flavoured, melted cheese covered snacks!
Melting Meatball Pizza Puffs
Ingredients (makes 12):
1 sheet of ready-made puff pastry
1/2 jar of pizza topping
12 meatballs
Grated cheese, I used cheddar
Method:
Pre-heat your oven to 220° and grease a muffin tin. Take your ready rolled sheet of puff pastry and cut out 12 rounds, put them in the greased muffin tray.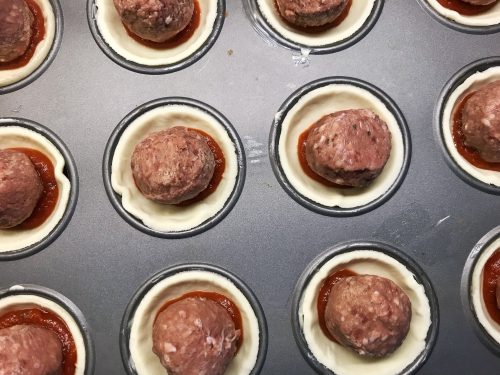 In each round, dollop half a teaspoon of pizza topping. You can buy a jar or make your own, whichever you prefer. Place one meatball (if using frozen, make sure it's defrosted) on top of the pizza topping; fill all 12 rounds and put in the oven. Bake for 15 minutes.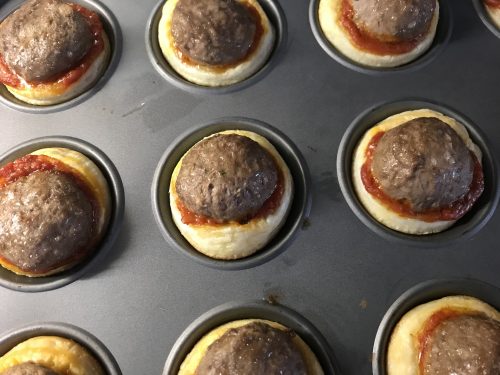 Remove from the oven and top each meatball with some grated cheese; return to the oven for five more minutes until the cheese has melted. Remove your cooked meatball melts from the oven and leave to cool for a few minutes. Serve with ketchup or whatever else you fancy.
They're such a good little snack and a great way to turn your humble meatball into something a bit different.
If you enjoyed this, you might also enjoy this recipe for tinned meatball pizza, yes it does sounds a bit strange, but it's worth a try!