If you live in a house with boys, foodstuffs, especially biscuits seem to mysteriously evaporate, whole packets of them, in minutes. I am of course grateful for this, without the evaporating biscuits my bum would be even bigger than it already is. I was thankful therefore when MARS sent me a lovely hamper of biscuits and sweet treats to keep some tummies filled during hungry half term.
In the hamper were a bag of Milky Way cookies; a bag of Galaxy cookies; a bag of Bounty cookies; a pot of Malteser spread (yes, such a thing exists), a packet of MARS cake bars and a huge Galaxy treat cake.
Naturally the cookies evaporated on sight, I did manage to sneak a nibble. They're available from Tesco's and if you enjoy a freshly baked cookie, then I'm pretty sure you'll enjoy them.
The Galaxy cookies (£1.30 for 4 from Tesco) were large and full of decent sized chocolatey chunks, not too crunchy, nicely soft and an enjoyable cookie. The small boy naturally went a little bit berserk over the Milky Way Cookies (£1 for 10 mini cookies from Tesco), which rather adoringly had not chocolate chunks, but chocolate stars, these were smaller but made up for it by having an extra few in the bag. My favourites were the Bounty cookies (£1 for 4 from Tesco), which were large, packed with chocolate chunks and full of coconut. A Bounty bar is too coconutty for me, but this was just the right amount, not too sweet either. I'd definitely buy these again.
The thing we all got most excited about was the jar of Malteser spread, chocolate spread liberally peppered with little malty Maltester balls. It's meant to be spread on toast or slathered on pancakes or similar, but I made butterfly cakes and used it instead of buttercream.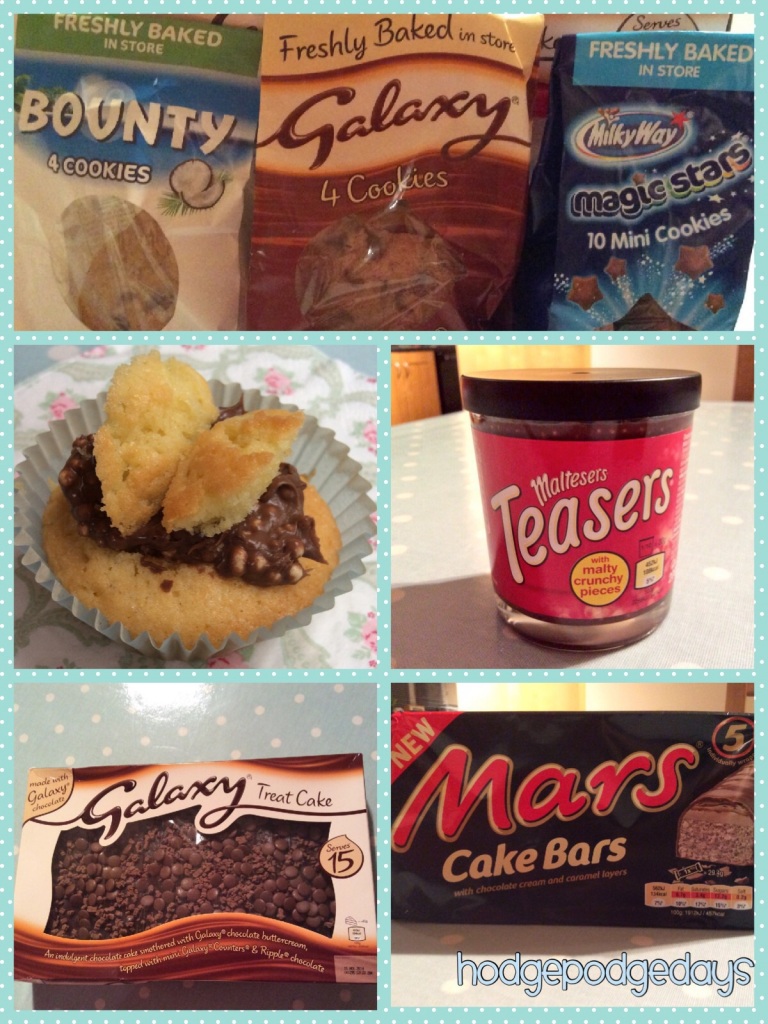 They were a huge success, the cakes were yummy with just a nice amount of chocolatey hit. Everyone loved the little crunchy pieces of Malteser. For me it is quite sweet so I'm not sure I could eat it as a spread, but hubs who has a sweet tooth loved it and would probably spoon it directly into his mouth from the jar if I let him.
The MARS cake bars (£1.65 for 5) were soft sponge topped with chocolate and caramel were for me the slight disappointment, they were lovely and disappeared quickly once the packet was opened, but for me I love the chewy nougat in a MARS bar and I missed that in the cake bars. I would buy them again though since the boys loved them so much.
The Galaxy treat cake (£7 from ASDA) was also a hit. It serves 15 so would be great for a party or as a treat for the office. Chocolate sponge topped with chocolate buttercream and little Galaxy pieces, there is nothing even potentially disappointing about any of that. We scoffed it with some friends when they came for a play date and it was enjoyed equally by parents and children.
If you haven't already you need to get your hands on the Malteser spread, it's brilliant for topping cakes with and I'll always have some in the cupboard for baking emergencies, though I may need to hide it from my greedy boys.
Note: We were sent these products free of charge for review purposes, all images and opinions are our own. Thank you to MARS for fuelling our half term fun.