In August, M&S opened a branch of Marks and Spencer Opticians in their Manchester store. It's been two years since my last eye test, so I went along to try out their new service. I booked my appointment at M&S Opticians online, which was quick and easy to do, my appointment was confirmed and all I needed to do was turn up on the day.
Since my good friend Claire at She Eats discovered she had a brain tumour during an eye test, it's been in the back of my mind that I must get mine tested. Thankfully finding a brain tumour is pretty rare, but your eye health is a good indicator of your general health and can flag up conditions you might not have been aware of. Regular eye tests are a good thing, so don't put them off.
I went along to Marks and Spencer Opticians in Manchester. It's located on the first floor next to the cafe. Feeling a bit nervous, I made my way upstairs and booked myself in. I was early so I spent a few minutes checking out the frames and trying a few pairs on.
I was ushered into a room where they did a few tests on me. Danielle was really reassuring and talked me through everything. For the most part all I had to do was sit and look while they blew air onto my eyeballs, took photographs of my retinas and did a test where I had to press a button each time I saw a flashing light in my periphery. It was very thorough.
After the testing I was taken through to see the optician, Mohammed. He spent some time checking what my prescription was, I don't think it's changed much in two years, which is reassuring. He also had another look at my eyes and discovered that there was something a little bit amiss with one of my optic nerves. We had a chat about that and about how much sleep I don't get. He suggested I use an eye wash a few times a week and he sent me back to the testing room to do a more thorough version of the peripheral vision test.
I was understandably feeling a bit on edge at this point, but everyone was really reassuring and Mohammed the optician spoke to me again afterwards, once he'd checked the results and explained that it was just a small anomaly and wasn't affecting my eyesight. It's probably something worth keeping an eye on though.
It was time to choose my new glasses. I'm a bit funny about my glasses, I like a particular style and round glasses do not suit me. There were hundreds of pairs to choose from, I spent a lot of time looking for what I wanted. I couldn't find anything which really appealed in the ladies section, so I had a look at the men's glasses. I was in luck, there were so many of the style I liked in the men's section.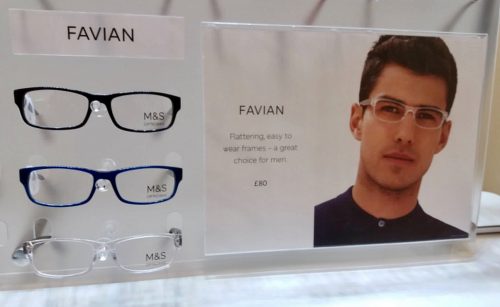 Glasses at M&S Opticians start at £40. I chose the "Favian" frames, which are described as "flattering, easy to wear frames – a great choice for men". These were £80 for the frames and another £30 for the lenses, so just £110 in total. I've previously paid A LOT of money for glasses, so I thought £110 was a really, really good price.
Two days later I got the call to collect my new glasses. I was impressed at how quickly they'd come back. I went into town a few days later to go and pick them up and was met by Paul, who took some time to fit my glasses. With them being men's glasses they were a little loose, so the arms needed to be adjusted to fit me properly. This was done while I waited and I left, happy with my new specs.
I was really impressed with Marks and Spencer Opticians; they were very thorough and I felt very reassured after my tests. I also thought their prices were very competitive, I couldn't find any fault with the service I received. I'm absolutely delighted with my new glasses. I think they look great on and they're really comfortable to wear too.
For more information about M&S Opticians, or to book an appointment, visit their website.
I was invited to review Marks and Spencer Opticians and given a pair of glasses in exchange for this review. Nevertheless, all images and opinions are my own.