We were sent a copy of the DVD, Lily's Driftwood Bay: Message in a Bottle to watch together. We'd never heard of Lily's Driftwood Bay before, which is a real shame because it's absolutely lovely. Lily's Driftwood Bay is currently shown on Nick Jr and Channel 5's Milkshake, and at first glance perhaps wouldn't be the kind of thing to capture the imagination of a lively five year old boy, but by episode 2 he was hooked!
Lily's Driftwood Bay features six-year-old Lily and her menagerie of friends as they set sail for a whole raft of adventures on the beautiful island of Driftwood Bay. The new DVD of the series, Lily's Driftwood Bay: Message in a Bottle is available now.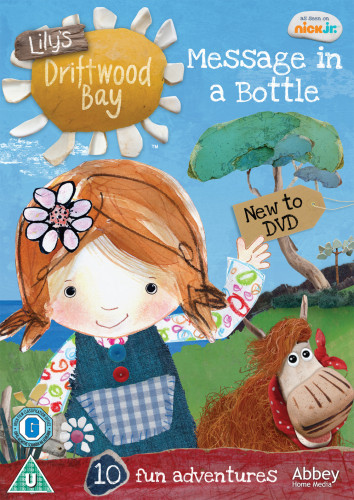 The series follows Lily, a little girl who lives in a beach hut with her Dad (Richard Dormer). She creates an imaginary world from the treasures she finds washed up on the sea shore. Every day, the sea washes up a new treasure, which sparks Lily's imagination about what might be happening 'across the way on Driftwood Bay'. And so, with her best friend Gull the clever seagull in tow, an adventure begins as they head off to Driftwood Bay and its cast of colourful inhabitants.
There's Salty Dog (Peter Mullan), a jolly sailor with a story for every occasion; Nonna Dog (Annette Crosbie), a wise granny who runs Cockle Café and is always ready with advice and a Puffin Muffin; Hatsie Hen (Tameka Empson), a train-driving hen with a need for speed and a love of excitement; Bull (Ardal O'Hanlon), a boisterous bull who always charges head first into things (often literally); Wee Rabbit (Jane Horrocks), a gentle young bunny with a love of art; and Lord Stag (Stephen Fry) an aristocratic deer with a taste for the finer things in life. It's the kind of thing you watch and think – hang on – I know that voice, and it's Stephen Fry!
Lily's Driftwood Bay is a lovely, sweetly animated series about making fun and adventure from unwanted treasure which has been washed up on the shore, this charming DVD from Abbey Home Media features ten adventures with Lily and her friends. Episodes include Message in a Bottle, Honking Haddock, Old Bertha, Stop that Pudding, Puffin Muffins, Starfish in the Sky, Silly Seals, Harbour Cookies, Seaweed Pie and Runaway Stag!
Lily's Driftwood Bay is U rated, runs for 70 minutes and is widely available from a range of retailers including Amazon
. It really is charming and my boisterous boy enjoyed sitting quietly and watching it with me, it was a nice way to wind down before bed.