Working in a small independent toy shop I am lucky enough to get to hear about quite a lot of new toys, games, books and puzzles before they hit the shelves. I was super-giddy when I saw the new puzzles for this year from Orchard Toys, and several of them will be joining our collection at home at some point very soon. However I was especially interested in the new range of Orchard Toys Activity Books.
The small boy loves an activity book, he fell in love with them over Christmas and has been working his way through one a week ever since.
There are six Orchard Toys Activity Books available, they are –
Animals Sticker Colouring Book, ages 3+
Make Believe Sticker Colouring Book, ages 3+
ABC Sticker Colouring Book, ages 4+
Number Sticker Colouring Book, ages 4+
First Words Sticker Colouring Book, ages 4+
Things To Do Sticker Activity Book, ages 5+
Each of the Orchard Toys Activity Books is 24 pages long and contains stickers for them to stick on the pages as they go along. We chose three of the activity books;  the Things To Do Sticker Activity Book, the Number Sticker Colouring Book, and the First Words Sticker Colouring Book.
The activity books have colourful covers and are black and white on the inside, with large drawings and shapes to colour in. Where there are words or numbers to copy and write, they are dotted lines to draw over and lots of space to practice.
The Number Sticker Colouring Book goes from 1 – 10 and includes practice writing the numbers, as well as counting activities, colouring in and sticking. All of which are great for encouraging the fine motor skills children of that age need to develop.
The First Words Sticker Colouring Book has 23 words to identify and write, as well as colouring in and stickers to stick. The words include cat, dog, drum, teddy and rocket. Again there are several chances to practice writing each word and extra space if you need it.
The Things To Do Sticker Activity Book is aimed at children aged 5+ and contains 20 pages of puzzles and things to do, including matching puzzles, word searches, dot to dots, mazes and simple sums.
I think activity books are great, we always have them out on the table to do a page or two when we get home from school. We don't like to push him to do them, but he often asks to do a page of numbers or a dot to dot. They're also great for taking out and about, an activity book and a couple of felt tips weigh virtually nothing.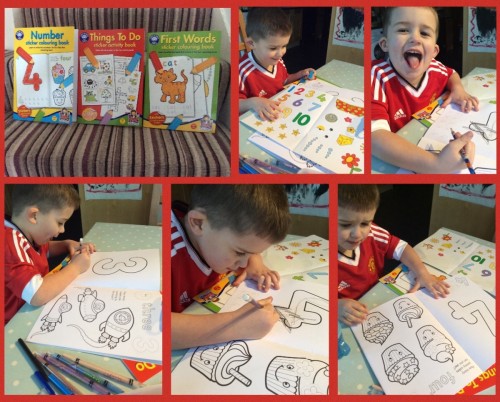 These Orchard Toys activity books are ideal for supporting the learning he is doing at school. We have been asked by his teacher to do more writing and pen holding at home, so even things like colouring in and learning to colour in the lines is great for his development.
Encourages Observational Skills
Encourages Number and Counting Skills
Encourages Discussion
Develops Shape and Matching Skills
Develops Hand Eye Coordination
Promotes Language and Literacy
For me, as equally important as supporting his learning and development at home is that he enjoys doing them and actively asks to do them with us, which he has done. We enjoy sitting with him and talking about what he's doing and what's happening on each page, we try not to make learning a chore.
These activity books are priced at £3.99 which I think is about average for an activity book like this (and I've bought lots and lots of them) and quite reasonable given the content and design. I think they've been well thought out and are a welcome addition to the Orchard Toys range.
You can find out more about the Orchard Toys Activity books on their website.
Note: We were sent these three activity books for review purposes. All images and opinions are our own.