Remote control toys have always been popular with children. Not just children, we love playing with them too! This week we've been playing with a Monster Smash Ups Remote Control Truck which has been so much fun. There are a few different Monster Smash Ups to choose from, but we went for the blue "Rhino" truck.
The Monster Smash Ups Remote Control Truck is powered by USB charge. It takes around 90 minutes to get a full charge, which gives around 20 minutes of play. The remote control unit needs 2 AA batteries, so the whole set up is quite light on batteries and won't cost you a fortune in AA's. I have my laptop on for at least a couple of hours most days, so I just plug it in and charge it up while I work.
The design of the Monster Smash Ups Truck is really robust and chunky and has tilt turn suspension. It fits together a bit like Duplo or Lego and it's designed to smash apart when you play with it. If you crash into an obstacle, like another truck, a wall or my foot then the front bumper activates the ejector seat and the driver in propelled from the truck. You can then quickly rebuild and get back to the action!
Suitable for ages 3+ these Monster Smash Ups trucks are customisable with the pack of stickers included. The trucks are radio controlled with a 20 metre range which allows several players to battle their trucks at the same time; or one player to repeatedly ram my feet when I'm trying to cook a meal. The Monster Smash Ups trucks also come with a set of cones and flags which you can use to design a course.
The Monster Smash Ups trucks have a built-in audio speaker. When you turn it on it plays the sound of a car starting up. It then plays the sound of a roaring engine; it also plays a crash sound when it hits an obstacle. Like with all noisy toys, I wish there was a volume control to turn it down a little; but in short bursts it's not too bad.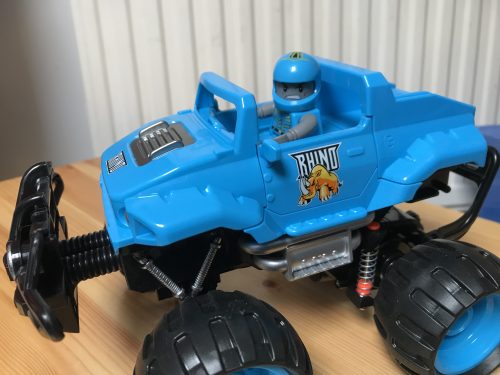 I like that the Monster Smash Ups trucks are so robust, that they crash apart and are easy to rebuild. They're suitable for ages 3+ but my nearly 7 year old has had so much fun playing with it. I can see him asking for more trucks in the range for Christmas too!
The "Rhino" Monster Smash Ups Remote Control Truck retails for around £29.99 and is available from a wide range of retailers including Amazon.
We were sent this Monster Smash Ups Remote Control Truck for review purposes. All images and opinions are our own.