A little while ago I wrote about my upgrade from a shoddy high street swimming costume to one more suited to my rediscovered love of swimming. I got myself a swanky and much admired Speedo one.
Since then I've fallen back in love with the Speedo brand and couldn't resist getting a proper, full-on training costume. My eye was drawn to the Speedo Pinnacle Body Positioning Kickback costume.
Regular readers will know I had two lots of spinal surgery last year and most of my core stability was lost, plus I've got a long rehab road ahead of me. A costume that will help re-balance me and strengthen me in the water could only ever be a good thing.
The Speedo pinnacle is full of special panels to help with core stability. Because of this it can be a little tricky to get on, but it's worth it. Once on it looks fantastic and got lots of very positive comments.
The Speedo Pinnacle is made from fabric which Speedo call Endurance+ and has been developed to be 100% chlorine-resistant, as well as quick drying. The fabric is 20 times more fade resistant than conventional swimwear and has been engineered to keep its shape, so it shouldn't get baggy after a few months. There's nothing worse than a baggy bottom!
Thankfully for someone rocking a sizeable pair of double Ds, it has decent bust support. I struggled with my old, non-Speedo costume and its slippy down straps, there's none of that with this, the racer-style back which means you don't have to worry about giving people an eyeful when you dive in, nor are there any hasty readjustments after every few lengths.
It was comfortable to wear and I felt it did support and improve my performance, not to mention increase my confidence in the water. When you're exercising the last thing you need is to be worrying about what you're wearing. This is stylish and performance enhancing.
Would I recommend the Speedo Pinnacle? Absolutely, if you're a serious and regular swimmer or you do aqua-fitness, then this is a brilliant costume. It looks good, it feels good and it should last longer than other costumes.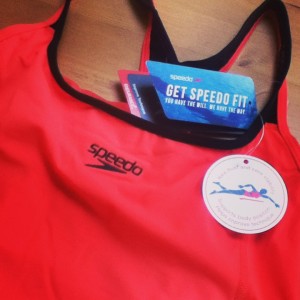 Disclaimer: Speedo were kind enough to send me a new swimming costume for review, to help me on my road to post-surgery fitness and as a thank you for my (always honest) review.