We were sent these SuperThings Rescue Force Series 10 figures and playsets to review. All images and opinions are ours.
Like most children, my son LOVES collectables. He's been a fan of SuperThings for years, indeed, since they were known as SuperZings. When each new series is launched, he gets all excited and starts his collection afresh. Thankfully they're very much pocket money friendly, so he can well afford to splurge each week on a couple of the blind bags.
For the uninitiated, SuperThings are little rubber collectable characters. They come in rival factions, so for every SuperThings superhero there's a rival super villain to collect. They are very pocket money friendly, so you can buy them in blind bag form, but there are a number of different larger sets to collect, which are more suitable for little treats. Like with most collectables, there are rare SuperThings to look out for, these are mostly gold or silver coloured and are highly prized!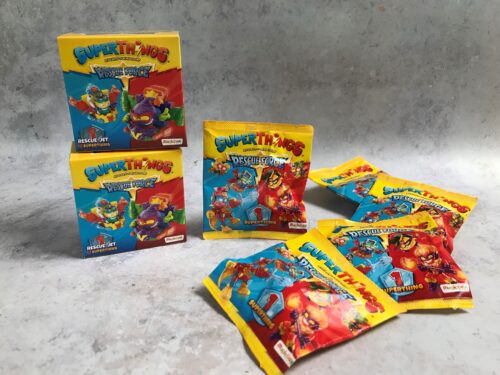 The SuperThings Rivals of Kaboom: Rescue Force Series 10 has more than 80 new superheroes and villains to collect. It's helpful to know that you can tell who's a goodie and who's a baddie because the super villains have yellow eyes, whereas the super heroes have white eyes.
We were sent a big box of the new SuperThings Rescue Force Series 10 collectables to check out, and it was a bumper haul for my little SuperThings fan!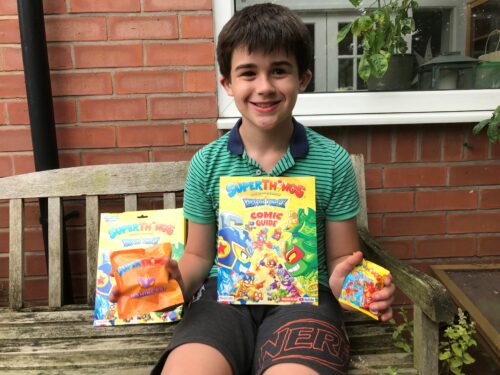 Available in SuperThings Rivals of Kaboom: Rescue Force Series 10
Starter pack, which contains a comic guide, a chrome SuperThing, a normal SuperThing and a special metal jet (RRP £5.99)
Ten pack of SuperThings, including 1 super rare gold SuperThing (RRP £9.99)
A six pack, which contains 4 SuperThings, 1 rescue jet and 1 jump wing
A Kazoom Kid, with 1 SuperThing and 1 accessory (six to collect, RRP £5)
Rescue jet with 1 SuperThing
Blind bags (RRP around 80p)
New to this series is the addition of the Kazoom kids (Starlock, Toolie Kit and Watermax who are the super heroes, and Cahillion, Breakmania and Funfire who are the super villains). These are larger figures than the regular SuperThings, and my boy was very impressed with them. They fit easily onto the rescue jets, which enhances their play value. They cost around £5 each, but he really enjoyed playing with them, possibly because they're a bit bigger and easier for him to handle.
The starter pack is always a great way to kick off your collection. It's got all the info you need to get going and the comic is colourful and fun, just the thing to pack for a summer holiday long journey!
My son loves collecting SuperThings, but he also enjoys playing with them, especially in the bath for some reason. He really enjoys the various vehicles they've had over the years, this year it's most jets and jump wings, which is super-fun! They really enhance his play.
Each SuperThing comes with a collectable leaflet, so you can tick off what you've got a keep track of where you're up to with your collection. SuperThings have been a perennial favourite for my son; each July when they launch a new series, he's on it and suddenly starts helping more around the house to earn some more SuperThings for his collection.
As a mum, what I really like is that they've changed their packaging, so it's made of paper and cardboard which is easily recycled. The SuperThings Rescue Force collection is out now at The Entertainer, Amazon and local Tesco, ASDA and Co-op stores.
Win a £30 bundle of SuperThings including a starter pack, 10 pack and more!
To be in with a chance to win a bumper bundle of SuperThings, simply complete the Rafflecopter widget below. Good luck!
Terms & Conditions:
1. The competition is open to residents of the UK only aged (18) and over.
2. The prize is non-transferable and no cash alternative is offered.
3. To enter, please use the Rafflecopter widget above, complete any mandatory entries and any optional entries you would like.
4. The winner will be chosen at random from all valid entries.
5. The winner will win a £30 bundle of SuperThings including a starter pack, 10 pack and more!.
6. The closing date for entries is 11.59pm GMT on 7th August 2022.
7. The winner will be contacted within 7 days of the closing date.
8. The winner will be asked to provide a full UK postal address with postcode for delivery purposes.
9. The winners address, contact details and email address only be shared with the PR to enable to prize to be sent to the winner.
10. The winners name will be available on request.
11. Entry to this giveaway confirms that participants have read, understood and agree to be bound by these Terms and Conditions.
12. HodgePodgeDays decision is final in all matters relating to this giveaway.