Fancy Advent Calendars are all the rage these days. I've seen gin calendars, beer calendars, LEGO calendars and skincare calendars; but alas there are no Yorkshire Tea calendars. I have searched high and low for a Yorkshire Tea calendar (other tea brands are available) but ended up deciding to make my own.
Tea drinkers are usually fiercely loyal to their brand. My best friend loves tea, specifically Yorkshire Tea and with lockdown once more gripping the country, I felt it was time to make them a special Advent gift.
The idea is a simple one. Find a new Yorkshire Tea tea towel and sew individually wrapped Yorkshire Tea teabags onto it. It's not really much more complicated than that, but here's how I did it.
How to make a Yorkshire Tea Advent Calendar
You will need:
A Yorkshire Tea tea towel, I bought mine from eBay
24 individually wrapped Yorkshire Tea teabags, I got mine from Amazon
A permanent marker
A needle and thread
Making your Advent Calendar
Lay your tea towel on a flat surface and decide how best to place your individually wrapped teabags. I took a photo so I could remember what worked best, because I can be a bit forgetful. You might want to iron your tea towel before you start, I didn't because I'm quite lazy.
Using the marker pen, number each teabag. Feel free to write a joyful message on the back of some of the packets if you wish. Shuffle your teabags so they are now in a random order.
Remembering the pattern of how you're going to sew them onto the tea towel; take your needle and thread and stitch a couple of tacking stitches through the top sealed edge of the teabag. Sew each one onto your tea towel and continue until you've sewn them all on.
That's it.
Should you be a bit worried that your sewing might not be up to much, you could get 24 safety pins and pin the teabags onto the tea towel instead. If you've gone for the sewing option; then I'd advise the recipient that a quick snip each day with some small scissors will release the bag from the tea towel and bring them some brewing up joy.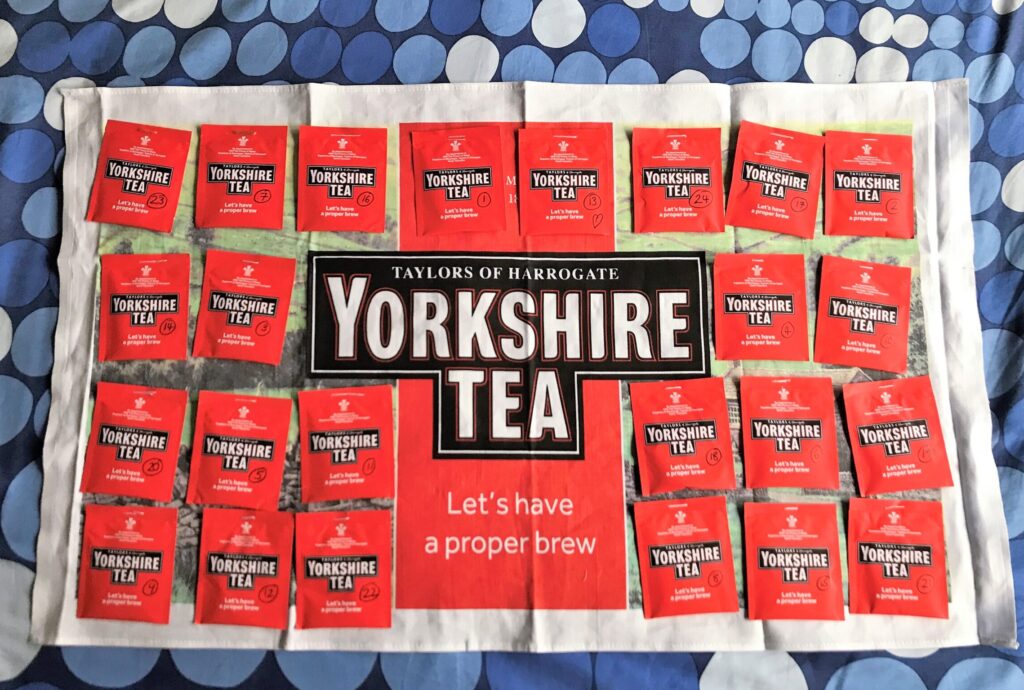 If you're looking for more Advent Calendar ideas, you can read about my Reverse Advent Calendar or find out about some interesting Advent Calendars you can buy.