Last Updated on February 10, 2020 by HodgePodgeDays
I'm not sure what happened at school, I loved reading, I was a vociferous devourer of books, but school managed to take the joy out of every book I ever studied. This regrettably left me with an aversion to both Jane Austin and the works of the Bronte Sisters. It wasn't until the famous TV adaptation of Pride and Prejudice starring Colin Firth that I began to take more of an interest in the classics.
This week the acclaimed production of Jane Austen's Pride and Prejudice, is on at The Lowry Theatre, Salford Quays (Tue 11 – Sat 15 October 2016). I went along with some good friends to see the production for ourselves.
Pride and Prejudice is one of the most universally loved novels. It tells the story of the Bennet family and their five very different, but similarly unmarried daughters. The Bennet family are of humble means and Mrs Bennet sees the perfect opportunity to improve their social standing when the wealthy Mr Bingley and his eligible friend Mr Darcy move to the neighbourhood.
But while Bingley takes a shine to their eldest daughter Jane, the proud and aloof Darcy instantly clashes with feisty Elizabeth Bennet, the most headstrong and wilful of the Bennet's daughters.
"It is a truth universally acknowledged, that a single man in possession of a good fortune, must be in want of a wife"
This production was a lively adaptation of the novel, with Mr and Mrs Bennet absolutely stealing the show for me. Mr Bennet is played by Matthew Kelly, the former presenter of Stars in their Eyes, now an award winning actor. And Mrs Bennet is perfectly and hilariously played by Felicity Montagu, perhaps most well known as Alan Partridge's PA Lynn. Both have exceptional comic timing, glittering stage presence and they are both physically comedic performers and put their skills to fine use.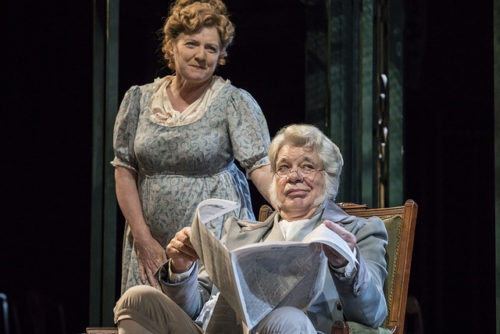 Tafline Steen as Elizabeth played the role of the feisty second daughter well, though I found her modern upward intonation a little distracting at times. Benjamin Dilloway as Mr Darcy was as aloof and proper as he should be and made a fine Fitzwilliam Darcy.
Pride and Prejudice is an excellent ensemble production with standout performances from Steven Meo as the odious and flamboyant Mr Collins, Dona Croll playing a superior Lady Catherine and Hollie Edwin as Elizabeth's older sister, Jane.
I was particularly taken by the revolving stage, complete with wrought iron framework which worked on several levels, quickly allowing the scenes to change from an intimate drawing room to a grand ball room in no time at all.
My favourite scenes were when the whole ensemble cast got together for a ball and the glittering glamour of such an occasion nearly leaped off the stage. You really got a sense of the frisson young couples would have felt as being able to dance and flirt a little.
Stage adaptations of Pride and Prejudice can never pack every detail from the novel into the performance. This adaptation has been trimmed down to just 135 minutes, so some aspects of the story are glossed over a little. Nevertheless the key themes remain, and the adaptation is light-hearted and in so many ways played for laughs. Something which delighted the rapt audience at The Lowry.
Following sell-out performances at London's Regents Park Open Air Theatre, this delightful adaptation of Pride and Prejudice by Simon Reade is now on a major UK Tour during 2016-2017.  Pride and Prejudice is a must see for any Jane Austin fan.
Pride and Prejudice is on at The Lowry, Salford Quays until Saturday 15th October, 2016. Thereafter the production will continue to tour around the UK. For more information and to book tickets visit the website.