Last Updated on August 7, 2022 by HodgePodgeDays
We were sent a selection of Science Mad toys for review purposes. All images and opinions are our own.
My son has always loved science and for as long as I remember, we've done all kinds of experiments and activities at home. He's had chemistry sets, telescopes, make your own slime kits, you name it, he's exploded it in my kitchen. This year, Science Mad have launched a range of at home science sets for STEM loving kids.
Science Mad! Digital Metal Detector
Over the weekend, we put a few of the kits to the test. The first one (and the one we were most excited about) was the Science Mad! Digital Metal Detector (£24.99). It feels like every beach we've ever been on has had a metal detectorist or two combing up and down it. A metal detector has always been out of our budget; but this junior version costs a smidge under £25 and as far as I can tell, it works just as well as the bigger ones.
Light-weight but still sturdy, this Science Mad Digital Metal Detector is ideal for indoor and outdoor fun. This Metal Detector features sensitivity and volume controls, as well as LED lights and audio alerts. We combed up and down our garden and found a selection of buried metal items, no actual treasure though, not this time.
The metal detector is easy to set up and the instructions are really simple. You do need to use a 9 volt battery though, so that's worth buying in beforehand if you're giving this as a gift. It is designed for use by a child, so the arm is just about the right height for my ten year old to use without bending too much.
It's a simple piece of kit, it's great fun to use and it's clearly a huge hit with my STEM loving son.
Science Mad! 5-in-1 Weather Station
Another part of the Science Mad range is the 5-in-1 Weather Station (£17.99). This was really simple to set up, we chose to put it in a plant plot in the garden. The weather station features,; a 3-cup anemometer to measure wind speed in MP/H or KP/H; an indicator that points to where wind is coming from; an integral compass to record wind direction; a thermometer to measure temperature in both degrees Fahrenheit and Celsius and a pull out rain gauge to measure inches and millimetres of rainfall.
When we set the weather station up, the forecast was for a settled few days ahead. This meant that the first few times we checked it, there was nothing very interesting to report. However, autumn suddenly kicked in, and the rain gauge quickly filled up. We were also able to see how fast and in what direction the wind was blowing.
It's a very well thought out piece of kit, with everything an amateur weather person needs. It's suitable for ages 6+ and it's so easy to set up, just slot everything into place and plant it firmly outside, somewhere where it's not sheltered from the weather.
Science Mad! Night Vision Goggles
Lastly we put the Science Mad! Night Vision Goggles (£16.99) to the test. They are light-weight and hands-free, and if you're a child who loves to go on spying missions, then these are ideal for that. The blue-tinted lenses and bright LED light beams help to give you night vision. The flip-out scope and 2X magnifying lens can help you get a close up view of things in the dark.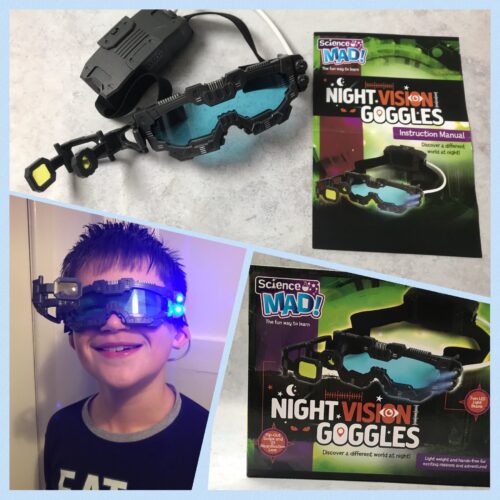 My son reckoned they would be brilliant to take on camping trips and sleepovers, and I think he might be right. We also like to go on bat hunts, so these would be handy for those times too.
The Science Mad collection offers kids real scientific equipment and kits with real working features, which is excellent for learning more about science at home.
There is so much to discover in the Science Mad range; Telescopes, Microscopes, a Chemistry Lab Set and a Crystal Growing Set; a Planetarium Star Globe, a Light Up Globe, a Build Your Own Vacuum Cleaner Kit, Digital Walkie Talkies, a Rock Tumbler kit and a Circuit Lab kit!
The kits are great fun, and whilst we've enjoyed experimenting with them at home, we are very much looking forward to taking the metal detector out on the beach and the night vision goggles camping. The weather station is brilliant, and we will be doing a small project with it over half term, measuring the weather each day to learn more about it.
The Science Mad collection is available from a range of retailers including Very.