Last Updated on April 5, 2018 by HodgePodgeDays
It's well documented that the boy loves dinosaurs. He loves playing with them almost as much as he loves learning about them. His favourite books at the moment are "non-fiction books about dinosaurs" and every week he seems to bring a new one home from the library. His current favourite is the newly published Dinosaur Number Crunch! by Kevin Pettman.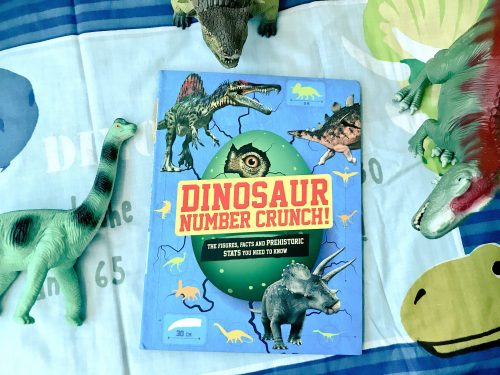 Dinosaur Number Crunch! is a snappily written, fact-packed overview of the world of dinosaurs. It's jam-packed full of colourful, well-illustrated facts. It contains all the essential info that dinosaur fans need to know; such as where they lived, what they ate, how big they were, how fast they could run, how many teeth they had and their key weapons.
Each fact is based around a number, creating an entire book of easy-to-digest information that will hook even the most reluctant of readers. For example…
"Ankylosaurus had 2 horns on the top and 2 horns on the side of its head. These 4 horns protected its head and eyes from predator attacks."
Dinosaur Number Crunch! is written to be enjoyed by children aged 8 and up. My son is 7 and such a big dino fan that he's had no trouble at all reading and digesting the facts in the book. He does struggle to pronounce some of the names, but I'm 41 and I can't pronounce them either!
This 96 page, hardback book covers a wide range of dino topics including "Clash of the Killers", "Under the Sea", "North verses South" and "Brill Bones & Fab Fossils".
It's very much the kind of book you can dip in and out of and absolutely perfect for fact fans like my son. It's very well put together. I like the themed pages and it means you can find the facts you want quickly. It's probably the most informative and interesting dinosaur book we've read, and we've read an awful lot of dinosaur books!
Dinosaur Number Crunch! is published by Carlton Kids and costs £9.99. It's available in all good bookshops and online now!
If you enjoyed this review, you might also like our selection of five roarsome books about dinosaurs!
I was sent a copy of Dinosaur Number Crunch! in exchange for this review. All images and opinions are my own.