If you want to keep my 7 year old son entertained for an hour; give him a bowl of jelly beans, a packet of cocktails sticks, show him the rudiments and watch him build all kinds of wonderful things. Welcome to the wonderful world of jelly bean architecture.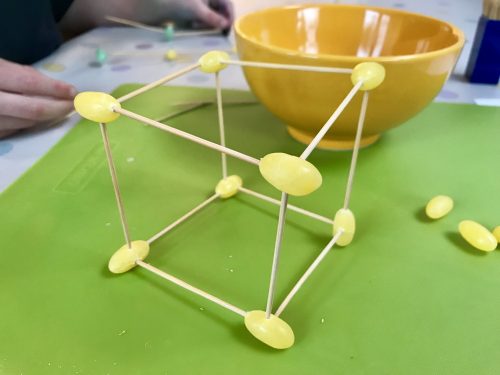 I confess, jelly bean architecture is not an invention of mine. When we went to the Just So Festival last year, my son spent a happy hour or so building with jelly beans. It's something that we've revisited at home a few times since and it's great fun; not to mention wonderfully educational and developmental!
You need two things to start building – lots of jelly beans (we get cheap bags of them from the petrol station, there's no need to go gourmet with these) and lots of cocktail sticks. You will also need the knack. The first few times you try to spear a jelly bean onto a cocktail stick, chances are you will stab your finger instead. The trick is to hold the jelly bean on a flat surface and carefully press down, piercing the hard sugary coating.
You should think of each jelly bean as a corner piece. You can probably fit up to four cocktail sticks into a single jelly bean. Whatever kind of structure you're building, the only limit is your imagination.
We find it best to warm up by building some simple 3D shapes, pyramids and cubes are great. How many cubes can you stack on top of each other? Can you fit a pyramid on the top? Who will eat the last jelly bean? You can then move on to more complex structures. In the picture here Ben has built a fire station.
Jelly bean architecture is perfect for budding architects and structural engineers. Anyone who is interested in building and construction, 3D shapes, maths, anything like that, plus it's tremendous fun! It's probably the most enjoyable STEM craft we've done together.