Last Updated on February 1, 2018 by HodgePodgeDays
After 23 years of Valentine's Days with my husband, I'm not saying romance is dead, but the budget has been somewhat slashed. We have for a number of years had a £5 gift and a card policy; which means that Valentine's Day often requires a bit of creativity. His favourite of the homemade Valentine's gifts I've made for him was the 52 Reasons Why I Love You pack of cards. It's a favourite of mine too, because it's so darn cute!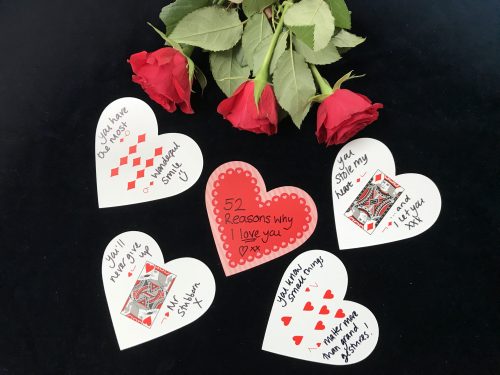 It's remarkably easy to put together. All you need is a pack of cards, a permanent marker and a list of 52 Reasons Why I Love You. That last one is the tricky one. My advice would be to take a few days to list some of the reasons why you love your partner. I found that I could find 30 or so reasons pretty easily, but then I started to write things like "I love you because you take the bins out"; which is a valid reason but lacks a little romance.
You can use a normal pack of cards. I found a nice heart shaped pack of cards and used them, but you can find a similar pack here on Amazon. Using your list of the 52 Reasons Why I Love You; neatly write a reason on every card in the pack. You may want to write the biggest and best reasons on the heart cards, and make sure you write it on the suit side, not the patterned side of the cards.
Here are a few of my reasons to give you an idea of what I wrote –
You cook amazing meals
You work so hard for our family
You're ace in every single way
You're generous with everyone
I love snuggling with you
I've known and loved you forever
I love the way you tuck me in at night
This 52 Reasons Why I love You gift is such a lovely thing to give someone. I know my husband looks at the cards often. The reasons are full of our shared history, our shared interests, our family and all the special things about him which I love and appreciate.
It's such a small, inexpensive and simple gift. But it's something that your partner will probably really appreciate and treasure for many years to come.
See what other Valentine's Day crafts you could make here.