On Tuesday we visited the Grill in the Park restaurant at Worsley Park Marriott Hotel & Country Club for dinner. We'd been there last year for breakfast, so we were keen to see what dinner would be like. They've just undergone a complete refurb and unveiled their new menu, we were invited along to try the new menu for size.
We were looking forward to a nice quiet date night, some good food and a chance to relax without the demands of a small child. The Grill in the Park restaurant is really cosy, with booths and quiet, intimate corners to dine in. It's just the place for a quiet dinner for two, a business dinner or for a group of friends.
It's a grill, so steak is high on the agenda. You can smell the steak cooking as you walk in and that is a very good thing. I'm a vegetarian, but the smell of cooking steak is possibly the only think that could turn me.
Executive chef, Tom Gardner has been with Worsley Park since 2014 and has created the new menu giving a twist on the grill menu. The menu looks really well balanced, with more than just a token veggie dish. They've invested £16,000 on a new grill, so most dishes have some grilled elements.
To begin with I opted for the Baby Beetroot, Goats Cheese and Cress Salad (£8) and my companion had the an Seared Scallops with Celeriac Puree, roasted hazelnuts and apple and fennel salad (£14).
I can't resist roasted beetroot and there were two different kinds on my plate. The salad was well dressed and the half log portion of goats cheese was very generous. The log had been grilled and it had a really delicious char on it, I did find the goats cheese quite hard and I was expecting a softer goats cheese, but I suspect this wouldn't have grilled quite so well.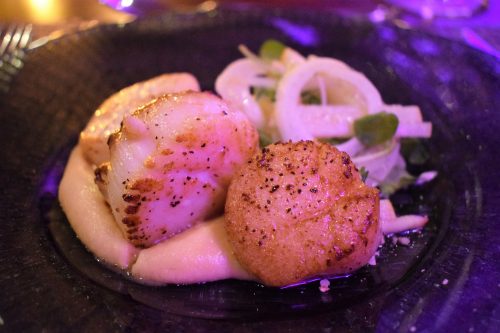 The scallops were a real hit. Three really plump and juicy scallops, well seasoned and nestled on top of some autumnal celeriac puree and alongside a small heap of sweet, crisp salad. It was a highlight.
Onward to the main course, I plumped for the vegetable fajitas (£12) with a side of sweet potato fries (£4). Whilst my better half couldn't resist a grilled sirloin steak (£27) which comes with tomatoes, watercress, a flat mushroom and a sauce of your choice, he went for port and shallot. He also had a portion of steak cut chips (£4).
My vegetable fajitas arrived hot and sizzling in their dish, I'd asked for no mushrooms as I can't eat them, so my sizzling dish was onions and peppers in a sweet sticky sauce. This came with two toasted wraps and sour cream, guacamole and salsa. This dish had all the potential to be really hearty and lovely, but I was a bit disappointed by it. The wraps were too crispy to roll into fajitas (I think the wraps should be warmed but not crispy) so I ended up using them as crispbreads and scooping the fillings on top.
I loved the onions and peppers, but I think the sauce was just a bit too sweet and after a while that began to cloy. It was so nearly there, if I order them next time I'll ask for the wraps not to be toasted.
My husband's grilled sirloin steak was a triumph. A thick, juicy steak with well cooked accompaniments. He always has his steak cooked medium-rare and it was perfectly pink with a lovely char. The sauce was rich and he cleaned his plate. The Grill in the Park do steaks very well.
We didn't have room for pudding, but we forced ourselves. I went for Warm Pecan Pie with caramel ice cream (£5.50) and he had the Lemoncello & Raspberry Semifreddo with raspberry compote and summer berries (£5.50).
Pudding was most definitely a highlight. His semifreddo was creamy and light, the perfect end to a rich meal. My warm pecan pie was something I will think about often in the coming weeks. The pastry was so light, thin and crisp, it was a joy. The pecans were soft, sticky and flavoursome and it was just perfectly put together. Pecan pie is my new favourite thing.
We had a lovely meal in cosy, intimate surroundings. I found fault with a few things, but not enough for me not to return again. We tried some absolutely wonderful dishes that night; but it is worth visiting Grill in the Park for the pecan pie alone! Go on, try it.
The Grill in the Park is at the Worsley Park Marriott Hotel & Country Club, for more information visit their website
We were invited guests of the Grill in the Park at Worsley Park Marriott Hotel & Country Club and our meal and drinks were complimentary. All images and opinions are our own.