Last Updated on February 8, 2018 by HodgePodgeDays
We are getting quite into STEM crafts and activities at home now. We've been busy with jellybean architecture, made a sponge house to grow cress on and this week we've been using the Valentine's Lego STEM Challenge Cards from Mrs Mactivity and seeing what we could create.
Lego play is well known for having all kinds of great developmental benefits, these include –
Promoting fine motor skills
Encouraging team work
Improving creativity
Developing problem solving and mathematical thinking
Improving communication skills
Developing lateral thinking and planning skills
Developing STEM (Science, technology, Engineering and Maths) skills and encouraging an interest in these areas is so important for all children. I'm lucky that my son is very keen on science and engineering; not so much maths, but we're working on that. He absolutely loves playing with Lego too, so these Valentine's Lego STEM Challenge Cards were absolutely perfect for him.
We printed out the Valentine's Lego STEM Challenge Cards and gathered a few boxes of Lego together. We each chose a challenge and got to work. I made the heart, the present and spelled out the word LOVE. He did an arrow, a heart and he also wrote the word LOVE in Lego.
It was really interesting for us to do something a bit different with our Lego and nice to build something which wasn't a Lego City or Ninjago set. I can see how it worked his problem solving muscles, trying to find the right piece to go in the right place, picking and choosing colours and carefully following the visual instructions on the cards.
I think it's also helped to show him that he doesn't just have to build the sets, that he can be a little more creative with his Lego. He especially enjoyed writing with it and went on the write his name and mine. This is definitely something we can build on together at home.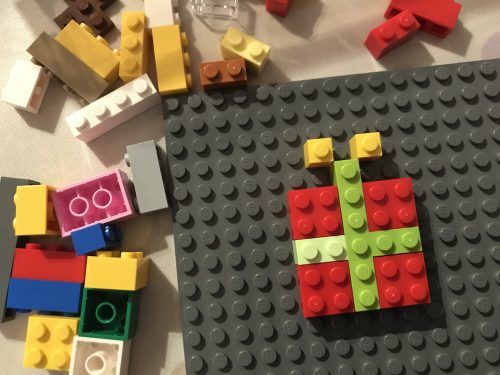 This was most definitely a fun thing to do together and the learning is obvious to me, but it's just fun for him!
The Valentine's Lego STEM Challenge Cards are available to download on the Mrs Mactivity website. You can also find a good selection of other activity sheets there – all designed to be fun and educational too!