Last Updated on May 7, 2020 by HodgePodgeDays
For our wedding anniversary a few weeks ago, my husband and I went to the Armenian Taverna in Manchester for dinner. We used to go there a lot in the days before we became parents, partly because the food was absolutely fantastic and partly because my husband is half Armenian and it's good to celebrate those roots. Together we feasted on the beautiful mezze plates and chatted like the old days. We both fought over the small but delicious portion of Armenian Red Cabbage Salad, a dish I've decided to recreate at home because it was that good!
Mezze is always my favourite part of any Armenian meal. I love piling my plate with little heaps of good salads and sides, with dollops of rich hummus served with still warm lavash bread. Delicious.
This Armenian Red Cabbage Salad is and always has been one of my favourite dishes. The salad is really simple to make and keeps for a few days in the fridge. I like to make a big bowl of it and serve it with almost anything. We had it this week with lamb koftas with a little salad and some lavash bread. It was so good I polished the rest of the bowl off for lunch.
It is better if you can make it the day before you need it as it really allows the flavours to develop. It's so simple and I think a really flavoursome and slightly healthier alternative to coleslaw.
Armenian Red Cabbage Salad
Ingredients
1 small red cabbage, or half a large one
1 dessert spoon of caster sugar
2 dessert spoons of Balsamic vinegar
1 dessert spoon of good olive oil
A handful or sultanas or craisins
A good handful of fresh flat leaf parsley, finely chopped
Salt & pepper
Walnuts, optional
Method
Finely slice your red cabbage and toss in a bowl to separate all the slices. In a small jar add your sugar, balsamic vinegar, olive oil and some seasoning. Put the lid on the jar and shake it hard until it is well combined.
Pour the dressing over the red cabbage, add in your handful of sultanas or craisins and stir. Give the salad a taste and add more seasoning if you think it needs it. Cover the bowl and put in the fridge overnight.
Before serving, remove from the fridge and leave it out for an hour or so to bring it up to near room temperature. Stir through the chopped parsley and taste again to check the seasoning, adjust if you think it needs it. If I have any walnuts I sometimes like to chop them up a little and throw them into the salad too.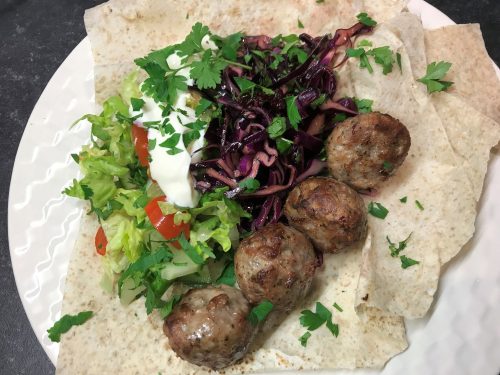 Serve however you want. We like our Armenian Red Cabbage Salad served with a mezze lunch or it's great with lamb or this traditional Armenian Imam Bayildi recipe. This Armenian Red Cabbage Salad hits so many delicious sweet, sour and crunchy notes, I'm sure it'll become a family favourite of yours too!