Last year I seriously cut down on my caffeine intake and now I just drink a couple of cups of tea or coffee a week. These days I seem to be very sensitive to caffeine and if I have a cup of coffee too late in the day, I just won't sleep at night. I don't want to cut it out completely, but I do have to keep an eye on just how much I drink. With this in mind, I was sent a jar of Barleycup to try.
I've swapped my lunchtime coffee for Barleycup and I've hardly noticed the difference. Barleycup is made from roasted cereal grains and chicory roots and is free-from caffeine and contains no artificial additives. Barleycup is also gluten-free and certified by Coeliac UK.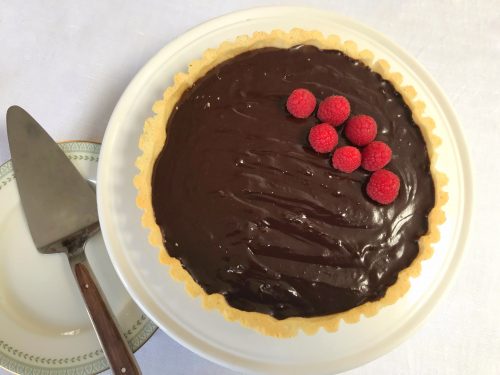 Not content with just drinking it, I wondered if it would be any good to bake with. It turns out that it was. I made a variation on a chocolate and coffee tart, I made a deliciously indulgent Chocolate and Barleycup Tart which was every bit as good as the original. Here's my recipe…
Chocolate and Barleycup Tart
Ingredients:
For the pastry –
4oz plain flour
2oz butter, cubed
A pinch of salt
2-3 tablespoons of cold water
-or- a packet of ready rolled shortcrust pastry
For the filling –
150g single cream
2 tablespoons of sugar
150g good quality dark chocolate
2 tablespoons of Barleycup powder dissolved in 4 tablespoons of boiling water
Method:
Tip the flour, salt and butter in a large mixing bowl. Using your fingers, rub the butter into the flour until it looks like breadcrumbs. Use a knife and stir in just enough cold water to bind the dough together. Do this gradually as you don't want your pastry to be too wet. Once you've made the dough, cover the bowl and chill it in the fridge for 15 minutes or so before rolling out.
Or if you're using shop bought, ready rolled pastry, take it out of the fridge half an hour before you want to use it.
Pre-heat your oven to gas mark 5 or 190°
Take your pastry and roll it out to the thickness of a pound coin. You can either roll it out on a floured surface, or between two pieces of baking parchment. I find the baking parchment method quicker and a lot less messy.
Grease a 20cm tart tin and carefully put the pastry in the tin, pressing it against the sides. Let the pastry hang over the sides of the tin, you can trim it later. Prick the base all over with a fork. Top the pastry with a sheet of baking parchment and cover with baking beans, bake in your pre-heated oven for 10 minutes.
Remove the baking beans and parchment and pop back in the oven for another 8 minutes. Remove from the oven and leave to cool. Once cool, carefully with a sharp knife trim the pastry so it is flush with the top of the tin.
While your pastry is cooling, warm up your cream and sugar in a saucepan. Finely chop the chocolate and once the cream is simmering, turn off the heat and add the chocolate to the pan. Leave for a minute and stir until the mixture is smooth. Add in your Barleycup mixed with water and stir until combined.
Carefully fill the tart case with the Barleycup and chocolate mix, level it off and make an artistic swirl or ripple on the top if you want. Put your tart in the fridge for a minimum of two hours, or overnight if you wish.
To serve, garnish with raspberries or chopped nuts. It is very rich, so a little goes a long way.
I can confirm that Barleycup is a great coffee substitute in baking. It works really well, adding a slight bitter note and complexity to the tart. I'll definitely be baking with it again, I wonder what a Barleycup and walnut cake would be like?
Note: I was set a jar of Barleycup to bake with. I have not been otherwise compensated for this post.