Last Updated on August 22, 2022 by HodgePodgeDays
This month I'm starting an online food history course with the University of Reading, it's something I've wanted to do for a long time so I'm excited to be taking the plunge. Naturally I'm preparing for it in the best way I know how, not by reading relevant texts and getting up to speed, but by buying notebooks and stationery. This week I've picked up a few writers' essentials which should see me though work and study over the next few months.
The Imperial War Museum Shop is one of my favourite places to find vintage style stationery and homeware and they've really come up trumps with this beautiful notebook.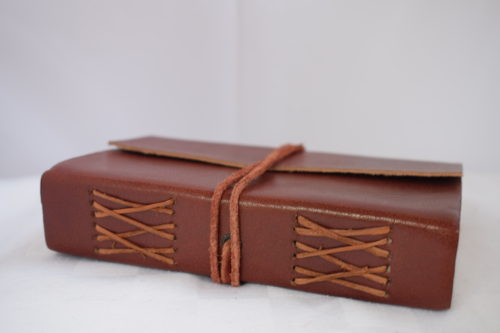 This lovely large leather bound journal is similar to the notebooks soldiers will have carried with them during the first and second world wars. It is stunning, the pages are hand stitched inside the leather cover and there is a band of leather to wrap around it to keep it all together.
The natural paper is thick and speckled, so it looks really authentic and almost handmade. The notebook has a real vintage feel about it too, just having it on my desk makes me feel happy. It's beautiful and I know when I take this out to meetings or lectures to make notes that it will turn a lot of heads.
The large leather bound journal measures 15.5cm x 11cm and costs £20. It is a real statement piece of stationery and I'm very much in love with mine.
It's almost impossible for me to do any work without a brew by my side, and I couldn't resist this mug with one of my favourite non-swears on it. Blimey is something I say quite a lot (and get ribbed for). I've always said it, but since becoming a mum I've toned down my "effing and jeffing" a bit and I'm all about the blimey and the crikey these days.
There are two different versions of the non-sweary mug, Blimey and Crikey. Either would have suited me well. These porcelain mugs are the standard size for a proper cuppa and cost £9 each – perfect for fans of retro non-swears like me!
I've got a few more bits to buy before my course starts, not least my text books, but I'm loving my vintage style writers' essentials. I always think if you've got nice things to work with, then work seems like less of a chore and more of a pleasure.
You can find lots more vintage and retro stationery, books and other goodies on the IWM website.
Note: I was sent these writers' essentials in return for a review, all images and opinions are my own.