Chocolate brownies are universally popular. I know my family absolutely adore them and whenever I make a batch, they usually disappear far too quickly. Brownies are the kind of thing you can easily adapt for different occasions or tastes.
This week I've decided to bake the classic – chocolate and cherry brownies, but I gave them a festive twist and baked them with Opies Black Cherries with Luxardo Kirsch. They were so gooey and good – the perfect brownie!
Chocolate Brownies with Boozy Cherries
Ingredients:
250g milk chocolate
250g unsalted butter
4 medium eggs
250g sugar
60ml of vegetable oil
2 heaped tablespoons self raising flour
2 heaped tablespoons cocoa powder
150g drained Opies Black Cherries with Luxardo Kirsch
2 shots of the Luxardo Kirsch which the cherries had been in
How to make your Chocolate Brownies with Boozy Cherries:
Pre-heat your oven to 185° and line a deep sided baking dish with baking parchment.
In a bowl, over a pan of simmering water, melt the chocolate and the butter together until smooth. In a separate bowl, mix the sugar and the eggs, whisk them until they're light and fluffy.
Pass the flour, cocoa powder through a fine sieve and add to the eggs and sugar. Gently whisk the ingredients together until combined. Then mix in the melted chocolate and the vegetable oil to combine. Stir through the cherries and kirsch and pour the batter into the tin.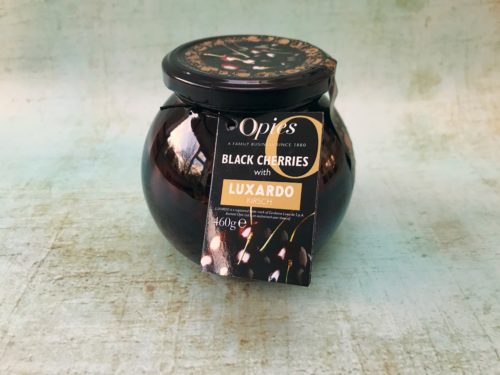 Bake for 35-45 minutes until the brownies have lost their wobble but are still a bit gooey inside. Take out and leave to cool. You want to almost under bake them so it's still soft in the centre.
Once they are cool, cut them into squares. I sprinkled my brownies with white chocolate stars and icing sugar to make them look a bit more festive.
I did have plans to make cherry chocolate brownie sundaes with them; layering them up with ice cream, whipped cream and drizzling more kirsch and cherries over the top. But I went out to work and when I came home they'd all gone, so you'll have to use your imagination instead. The sundae sounded pretty tasty in my imagination!
Note: We were sent a jar of Opies Black Cherries with Luxardo Kirsch and I decided to use them in this recipe. I've not been compensated for this post.