Who doesn't love brownies? These gorgeous Chocolate and Cherry Brownies have a crisp crust and a delicious gooey centre. They are best served warm with a good dollop of vanilla ice cream. Brownies are always a favourite. Whatever the season, brownies never seem to go out of fashion.
Gorgeously Gooey Chocolate and Cherry Brownies
Preparation time 15 minutes
Cooking time 35-40 minutes
Makes about 18
Ingredients
200g butter, cubed
100g good quality dark chocolate, roughly chopped
4 eggs, beaten
425g granulated sugar
100g plain flour
1 tsp baking powder, sifted
½ tsp sea salt
1 tbsp vanilla extract
100g dried or glace cherries
Method
Preheat the oven to 180c, gas mark 4. Line a small roasting tin with baking parchment.
Place the butter and chocolate in a heatproof bowl and allow the ingredients to melt either over a pan of barely simmering water or in a microwave on a low heat. Allow to cool slightly.
Place the remaining ingredients in a mixing bowl and pour in the melted chocolate and butter mixture. Fold together lightly until thoroughly combined. Pour into the prepared tin and place in the preheated oven for 25-30 minutes until a crust forms. Remove from the oven and allow to stand for 15-20 minutes. Cut into squares when cooled.
Cooks Tips:
You can add other ingredients in with the cherries if you'd like. Pecans and brazil nuts work well instead of cherries.
Brownies are great to make with kids and a real family treat. Brownies are a good base for all kinds of wacky ideas you or your kids may have. Swap out the cherries and add chunks of Oreos, wedges of Snickers bars or drizzle with caramel and sea salt when they're fresh from the oven. Make them into Christmas Brownies by adding chunks of chocolate orange and a couple of handfuls of cranberries.
Whatever you choose, they will almost certainly be delicious! How do you like yours?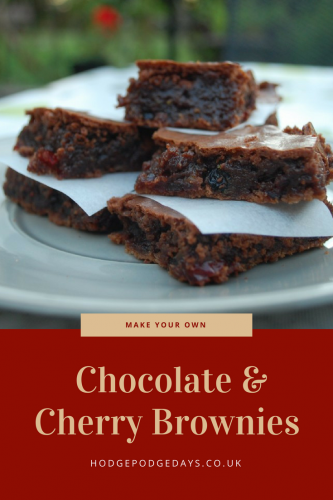 This recipe was developed in conjunction with an Appliance House Chef.