A couple of weeks ago to celebrate two friends getting new jobs, a group of us went for afternoon tea at Cocoa Cabana in West Didsbury. To my shame I've never eaten there before, but I've bought and eaten plenty of their chocolates over the years. I was interested to see what their chocolate afternoon tea would be like, plus it seemed like a bargain at £16.99 each, so I needed to check it out properly.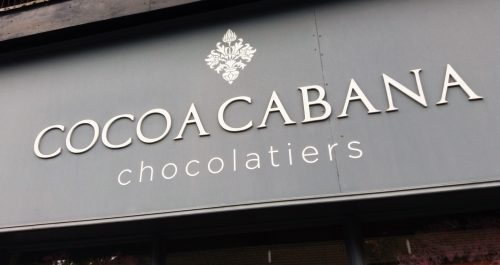 Cocoa Cabana in West Didsbury is a small chocolatiers and cake makers. They have three small tables inside and on nice days you can sit outside on Burton Road and watch the world go by. There were eight of us, so we took up all of the inside tables. Because of the size of Cocoa Cabana and the work involved in making an afternoon tea you do have to book in advance.
My friend Sarah had done all the booking and had arranged for us to take some celebratory prosecco with us to have with our tea. There was rather surprisingly no corkage to pay for this. The afternoon tea comes with unlimited tea or coffee, you can have hot chocolate but there is an additional charge for this.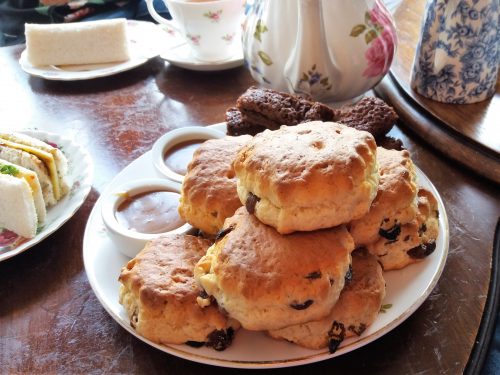 We were served pots of good tea and we chatted as our sandwiches were brought to us. I was one of two vegetarians and our sandwiches were brought on separate plates. I thought that was a nice touch as the carnivores often snaffle the veggie sandwiches before I get to them. The sandwiches were freshly made with seeded bread and good quality fillings. There were nice egg sandwiches, cheese and pickle and ham and mustard amongst others.
More tea was poured, prosecco corks popped and a procession of sweet treats were brought to our table. The freshly made fruit scones came with lashings of cream and a salted caramel sauce; a real twist on the classic but one I really enjoyed. It was a little sweet for a couple of my friends, but the sauce was a winner for me.
The chocolate tarts were much coveted. Crisp pastry filled with chocolate ganache and topped with a red berry. The tarts were excellent, but very rich and very intense. Most of us managed half a tart each (you can take what you can't finish home if you'd like).
Following the chocolate theme, there was also a large plate of chocolate brownies. I am not much of a brownie fan, but I shared one with a friend and it was perfectly crisp on top and gooey in the middle.
What did turn my head was this little plate of prettiness. Tiny eclairs, a teeny banoffee pie, a bite-sized cheesecake, little raspberry chocolate pots, a miniature lemon meringue tart and the lightest, most magnificent pistachio macaron ever.
As with every afternoon tea I've ever had, there was far too much food, which is probably a good thing. Afternoon tea should not leave you wanting more and the staff at Cocoa Cabana were clearly used to boxing up leftovers.
The Afternoon Tea at Cocoa Cabana is just £16.99 per person, which is really excellent value. We didn't feel rushed and the service was attentive but not intrusive. I did need to go home and have a nap directly afterwards, but that is my greed and not a comment on the quality of the food. I liked the separate veggie sandwiches; and the macarons I will dream of for a while yet. I do think the salted caramel sauce should be sold in jars.
The verdict? A good afternoon tea, with some real highlights at very reasonable price, I've paid upwards of £25 in Manchester for very average afternoon teas and the Cocoa Cabana afternoon tea was better value and much better quality. Plus the service was accommodating and attentive. It's nice to have afternoon tea (and chocolate) of this quality available outside of the city centre. Go on, treat yourself (and me).
Cocoa Cabana 128 Burton Road, West Didsbury, Manchester, M20 2JQ
Visit the Cocoa Cabana website for further information http://cocoa-cabana.co.uk/
Note: We paid for our Afternoon Tea in full.