Cranachan is a traditional Scottish pudding, usually made with whipped cream, whisky, honey and fresh raspberries, with toasted oatmeal soaked overnight in a little bit of whisky. Whilst my Cranachan Shortbread recipe isn't faithful to the original, it is considerably inspired by this Caledonian classic.
This Cranachan Shortbread recipe is a beautifully short and crumbly whisky shortbread, dipped in chocolate and sprinkled with dried, crushed raspberries. It's a biscuit and a half and a real Scottish inspired treat.
Dried raspberries are available, but hard to find. Unsuccessful, I ended up drying my own in a very low oven for many, many hours. I then crushed them in a pestle and mortar. I was pleasantly surprised with how they turned out, they didn't smell especially powerful, but they certainly packed a flavour punch. They'd be great sprinkled on all kinds of cakes and desserts.
Cranachan Shortbread with whisky
Ingredients:
225g butter
130g caster sugar
350g plain flour
3 tablespoons of whisky
Caster sugar for sprinkling
100g milk chocolate
1 punnet of raspberries, dried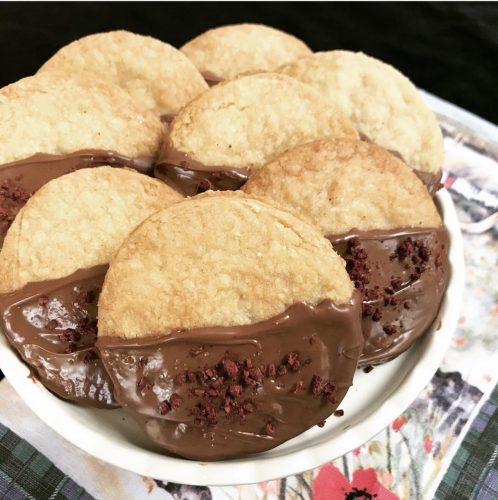 Method:
Pre-heat your oven to 180. You'll need to have a couple of baking trays covered with greaseproof paper ready.
In a mixing bowl, thoroughly beat the butter and sugar together. Once fluffy, add the whisky and little by little add the plain flour. Mix with a wooden spoon as best you can. Try not to overwork it too much or the dough will go gluey.
I find the following method tidier and it stops you manhandling the dough too much. Once the shortbread dough is almost mixed, tip it out onto a large sheet of greaseproof paper; bring the dough together with your hands and then fold the paper in half with the mixture sandwiched in between.
With a rolling-pin, roll it out so it's about 5mm thick and cut into rounds. I used a glass for this and carefully lifted each shortbread biscuit onto the baking tray. You should get around 18 shortbread biscuits out of the dough. Sprinkle a pinch of sugar over each round.
Bake in the pre-heated oven for 12-15 minutes. Keep an eye on the shortbread, they still need to be pale and not brown. Once they're baked, remove from the oven and leave to cool on a rack.
Whilst the shortbread biscuits are cooling, melt the chocolate over a bain marie. Once melted, dip each shortbread into the chocolate and half coat it, put your biscuit back on the greaseproof paper and sprinkle the dried raspberries. Try to resist eating your shortbread until the chocolate has set.
Enjoy with a cup of tea or a wee dram if you're so inclined! Sláinte!
If you've enjoyed this recipe, you might also like this Haggis, potato cake & poached egg stack or these delicious haggis pasties.