We were sent an EasiYo Yoghurt Maker for the purposes of this post. All images and opinions are our own. 
Making your own yoghurt at home is nothing new. In the 1980's my Grandma used to make her own using powdered milk and a weird machine she'd got from somewhere. Yes it was as unappetising as it sounds. Thankfully, around 25 years ago EasiYo was invented and it's popularity is growing; people are finding out how easy, economical and delicious EasiYo is.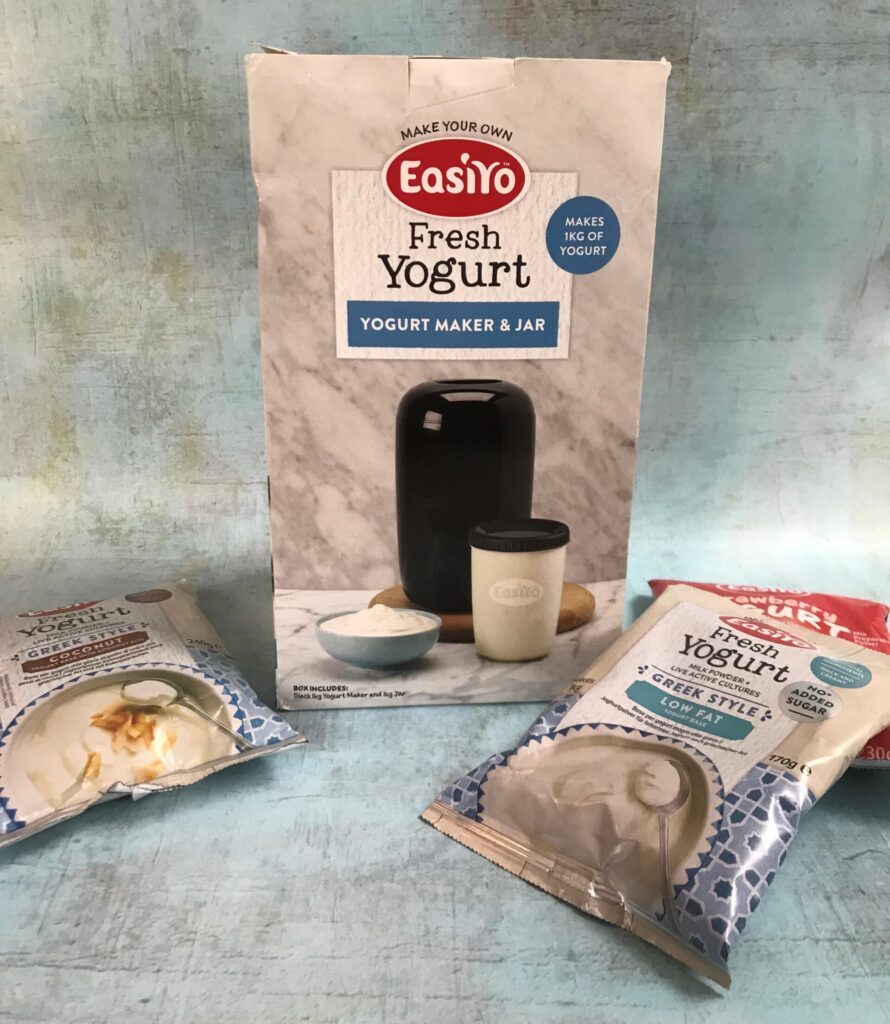 I was sent one of the shiny black EasiYo yoghurt makers to try out. The maker is a stylish black pod which makes 1kg of yoghurt each time. But what did my yoghurt loving boy think of it and just how easy is it to use?
The black maker is quite lovely to look at, it's all sleek and shiny and doesn't look out of place in a modern kitchen. I unpacked it and my box contained the black pod, the 1kg yoghurt jar and some instructions. We were given a few different yoghurt flavours to try.
I thought I'd try the boy with the Greek style low fat yoghurt, which I thought would be lovely with a little drizzle of honey.
Making EasiYo yoghurt is incredibly easy and much quicker than I thought it would be. The instructions are on the back of each packet anyway, but you simply mix the sachet with water, give it a good shake and then put it in the pod which is half filled with boiling water. Leave it overnight and you've got 1kg of yoghurt to enjoy the next day. The yoghurt is ok for up to a fortnight in the fridge, so don't feel you have to polish off a huge amount in one sitting.
I made the yoghurt the day before we needed it, put it to one side and let the yoghurt maker work its magic. A little over 24 hours later (it works in 12 hours, but you can leave it for 24 hours and you get a better set) I opened up the yoghurt maker, tipped out the water and opened up the jar. The yoghurt had set firmly and looked really thick and creamy. I dolloped some into a bowl with some honey drizzled over the top and gave it to the boy as an after school treat.
But what did he think? He polished the lot off and then began demanding seconds and even thirds of it. It's thick, creamy and delicious and contains no artificial ingredients, is gluten-free, vegetarian and full of nutrients. I'm sold on EasiYo, and I think he is too!
It's incredibly easy to make, and it makes 1kg of yoghurt at a time, which makes it really economical. Plus it's pretty fun to make with the kids, especially ones who like mixing things up in the kitchen. There are a huge range of flavours and styles of yoghurt to choose from; from very low fat yoghurt to indulgent creamy yoghurts. We're looking forward to trying them all out!
You can find more information about EasiYo yoghurt on their website.