One of the things I miss as a vegetarian is the rich beefiness of French Onion Soup. It is in my opinion the king of soups and perfect for cold days when you're craving a rich broth. I once lamented my French Onion Soup regrets to a wonderful chef who used to work at Greens, Simon Rimmer's vegetarian restaurant in West Didsbury. The next day she'd whipped me up a batch of French Onion Soup which was entirely vegetarian. I was in awe.
She gave me a few top tips for making my own French Onion Soup at home, but she sadly passed away before I could share with her my triumphs. So my version of this recipe is for Shona, my old friend who I miss terribly.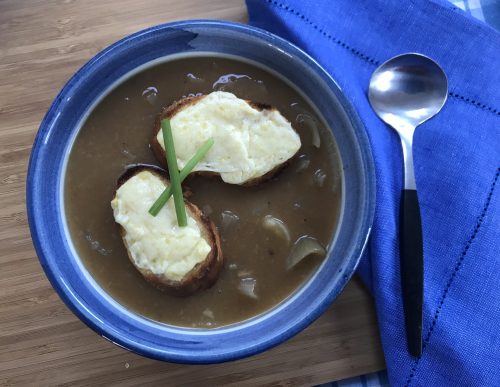 This is vegetarian, but you could easily make it vegan by swapping the butter for a vegan spread or oil.
Slow Cooker Vegetarian French Onion Soup
Ingredients:
30g of butter
4 or 5 large white onions
3 cloves of garlic
2 tablespoons of plain flour
3 tablespoons of sherry
1 litre of vegetable stock made with Essential Cuisine liquid concentrate
2 tablespoons of mushroom ketchup
1 tablespoon of sherry vinegar
1 tablespoon of sugar
Half a tablespoon of tomato puree
2 bay leaves, fresh or dried
Salt & pepper
1 baguette
A handful of grated cheese, Gruyere is preferable but Cheddar is also fine.
Method:
Switch your slow cooker onto high and peel and slice your onions into rings. Add the butter and onions to the slow cooker and leave them to soften for an hour or so. You might prefer to do this stage in a frying pan, softening the onions gently. This would speed up the process if you can.
Once the onions are soft, add the crushed garlic and stir. Then add the plain flour, stir again and then add your sherry. Pour in a litre of vegetable stock and then add the mushroom ketchup, sherry vinegar, sugar, tomato puree, bay leaves and some salt and pepper. Cook on high for an hour or so, stirring occasionally.
Taste your soup and add more seasoning and sugar if it needs it. Turn your slow cooker down to low and it can happily sit for several hours. The longer you cook it, the richer and deeper the flavour.
When you're ready to serve, slice your baguette up into rounds and grill on one side to your liking. Flip your sliced over and top with cheese, grill until it's melted and bubbling. Ladle your soup into bowls and then float your cheesy baguette slice on top and enjoy.
French Onion Soup is such a delicious treat, rich and warming and all the better for being made with a good quality stock. For this recipe I used Essential Cuisine stock.
There are four concentrated liquid stocks in the range – vegetable, beef, lamb and chicken. They're bursting with flavour and just the thing for this soup which relies upon a good quality stock to bring it to life.
In collaboration with Essential Cuisine.