One of the best parts of a night or two away in a hotel is the breakfast. At home I rarely eat breakfast and if I do it's usually just toast or cereal. A hotel breakfast is a real treat, and like most people I like a big breakfast to set me up for a day of shopping, sightseeing or adventure. This week we were invited to the Worsley Park Marriott Hotel & Country Club to try out their award-winning breakfast.
In November 2016 the Worsley Park Marriott Hotel & Country Club was voted as having the best breakfast in the North West by Trivago. We were invited down to put their breakfast to the test. It was a great excuse for a proper family breakfast to see us right for a wintery walk later that day.
Breakfast is served at the Grill in the Park from 6:30am -11am on weekdays, or 7am – 11am on weekends. Hotel residents can add for £10 upon check in for breakfast. For those not staying overnight, breakfast is available at £16 for the buffet and £12 for continental.
Breakfast at the Worsley Park Marriott Hotel & Country Club includes a selection of continental meats, cheeses and smoked salmon; fresh fruit and yogurts; muffins and pastries; cereals, toast and hot cooked breakfasts with a choice of freshly cooked eggs, local sausages, bacon and all the trimmings. They also have a chef on hand to whip up a fresh omelette for you and freshly made waffles, more of which later.
The Grill in the Park is a comfortable but stylish setting for breakfast, and on Saturday morning it was busy with families and couples having breakfast with plans to visit the nearly Trafford Centre, or Legoland, or like us got for a long walk in the country.
Breakfast is self service, though a friendly waitress offered us tea and coffee and the small boy had a hot chocolate. The service was efficient, with waitresses clearing plates away and generally being very helpful. I chatted to the chef whilst he cooked my omelette and he and the waiting staff were great to chat to if you needed some advice about things to do locally.
Breakfast began with a selection of juices and fruit. Hubs went for a very lovely looking porridge with jam and bananas.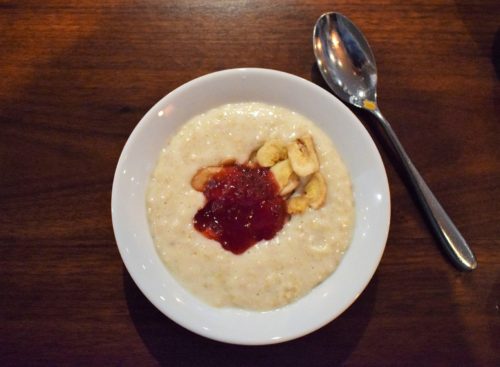 The small boy loves fruit, so he had a big bowl of his favorites with some yoghurt. They also had a good selection of cheeses, meats and smoked salmon; as well as bread, muffins and pastries for those wanting a continental breakfast.
I'd heard that the omelettes were excellent. They're one of my favourite things, so I had to give them a try. There were about 8 different fillings to choose from, but I opted for cheese and tomato – all freshly cooked in front of me. When I got back to the table there was such omelette envy, we had to go back and get another for the boy.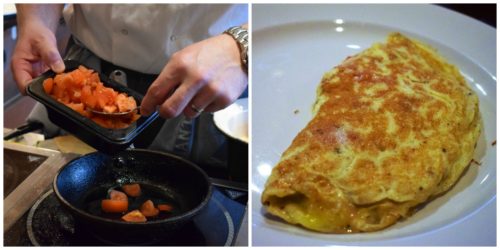 My husband opted for the more traditional fry up. He particularly enjoyed the sausages and the poached egg. I had a slice of fried bread with baked beans – a rare treat. It was so delicious I was sad to finish it. The small boy, true to form opted for a side of sausages to go with his omelette. He said they were the best sausages ever!
A special mention must go to the freshly cooked waffles. I love waffles but I rarely eat them. I'm so glad I insisted we share a waffle and maple syrup (for breakfast dessert). It was the lightest, airiest waffle I've ever eaten. It was a joy. If you go to the Worsley Park Marriott Hotel & Country Club for breakfast, you must try the omelettes and the waffles.
We'd eaten and eaten well. Breakfast is the most important meal of the day, we all felt that the Worsley Park Marriott Hotel & Country Club had nailed it. It was very, very good, with lots of choice and everything was well made and well cooked.
I can see why the Worsley Park Marriott Hotel & Country Club won best breakfast in the North West. If I was staying in the hotel I wouldn't hesitate to book myself in for breakfast, but it is the kind of place we'd pop in to fuel up for the day if we were passing on our way to another adventure. Delicious.
For more information about breakfast at the Worsley Park Marriott Hotel & Country Club, visit their website.
We were invited guests of the Worsley Park Marriott Hotel & Country Club and our breakfast was complimentary. All images and opinions are our own.