My now 11 year old is mad on Minecraft and has been for a couple of years now. He loves everything Minecraft and asked for a Minecraft block birthday cake for his 11th birthday. I lack the skills (and time and enthusiasm) to bake and decorate something really complex, but I can bake a good sponge cake. I figured if I did some kind of grass block, then if it looked a bit rough and ready, it would be all the better for it.
Although this is fairly simple, it is a bit time consuming. Baking the cake layers took me a couple of hours and I made sure I had an hour or so free the next day to put it together and decorate it. I did cheat and use ready-made tubs of frosting, but you can make your own if you want to.
We baked four layers of sponge using a 20cm square cake tin. My son loves the look of rainbow sponge cakes, so I coloured each one a different shade using some Wilton cake colourings I had. I always find they work really well; just remember that once you bake the cake, the colour gets darker, so go easy.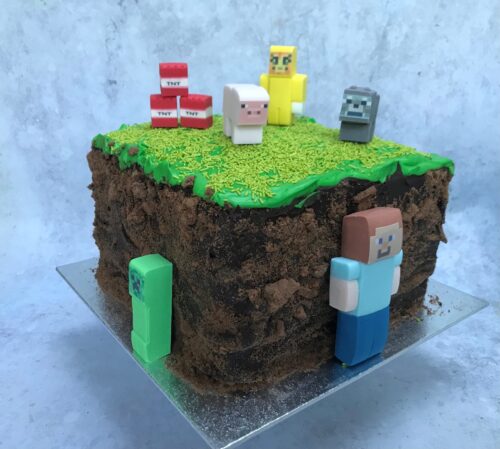 We used my regular sponge cake recipe, but instead of splitting it into two tins, I just threw it all in one tin and had an extra thick cake. I needed to adjust my baking time upwards, to around 35 minutes. But just bake until you get a clean skewer when you poke it in the middle.
I baked four of these thick sponge cakes, but you may need more or less. I wanted my cake to be as tall as it was wide, in other words, it needed to look like a cube, or a Minecraft block. We bought sugar paste Minecraft figures off the internet, because I lack the skill and time to tackle making those for myself.
I try and make a cake every year for my son's birthday and he really, really loved this cake. It was worth the fairly small amount of effort I put into it. I'm not an exert cake decorator by any stretch of the imagination, but this was pretty impressive.
How to make a Minecraft Block Birthday Cake
You will need:
4 layers of sponge cake, rainbow coloured if you like
2 tubs of vanilla buttercream
Green food colouring
Green sprinkles
3 tubs of chocolate buttercream frosting, I used chocolate orange flavour
A packet of chocolate biscuits, I used bourbon creams
A cake board
Sugar Minecraft figures, optional
Birthday cake candles, mandatory
How to make a Minecraft Block Birthday Cake
Once you've baked your layers, it's time to build your cake. You may need to trim the tops off your sponge layers to level them out a bit. The important thing about this cake is that it's level and a cube shape.
To build the cake, using a palette knife put a dab of the buttercream in the centre of the cake board. If you're using rainbow cake; decide which order your rainbow layers will go and place the bottom layer on top of the blob of buttercream. This will help to anchor your cake in place and stop it sliding about.
Spread a layer of buttercream on top of your first layer and top it with your next sponge layer. Cover that with buttercream and continue until all the layers are stacked. With the top layer, even if you've trimmed the top off the cake to make it level, if you flip it upside down. It will guarantee that the top of the cake will be perfectly level, which is what you want.
Once it is approximately a cube shape, it's time to decorate it. I began by covering the sides of the cube with the chocolate frosting. While I was doing this, I gave my son the job of smashing up a packet of chocolate biscuits into crumbs. This was so I could press the crumbs into the buttercream to make it look like soil. I wasn't too bothered about the crumbs being uniform in size; in fact some bigger crumbs just made it look muddier. Once you've covered the sides of the cube with chocolate frosting, carefully press the crumbs into the sides until they sides are covered.
For the grass layer, I mixed two tubs of vanilla frosting with some green food colouring. Just add a few drops until you get to the shade of green you're happy with. Carefully spoon the frosting onto the top of the cake; making sure it stays on the top and doesn't run down the sides. Once I'd done this, I used green sprinkles on top to add some grassy texture and then I put it in the fridge for a couple of hours to firm up.
When you're ready to present and serve your cake, arrange your Minecraft figures however you'd like, light the candles and sing Happy Birthday in your best voice.