I've been reading Roald Dahl books since I was a child and I'm keen to pass on a love of his stories to my own son. I've loved all of Roald Dahl's books, but Charlie and the Chocolate Factory is an especially iconic tale. Who hasn't dreamed of finding a golden ticket and being transported into a wonderful new world? Wonderbly have recently released a new personalised story book based on Charlie and the Chocolate Factory – My Golden Ticket.
My Golden Ticket is a beautifully illustrated personalised adventure that opens up Willy Wonka's chocolate factory to absolutely everyone. This isn't just a version of Charlie and the Chocolate Factory with a Charlie's name swapped for your child's name. Everyone gets a different personalised story; including their own unique candy, Oompa Loompa song and Wonkafied family tree.
When you order your copy of My Golden Ticket on the Wonderbly website there are a few questions you need to answer to personalise the book. Obviously there's your child's name, in our case Benjamin. You can also choose someone to go on the adventure with him. We chose Grandad who died last year; but he would have been the perfect person to go on this adventure with.
You can also add your names to an inscription on the first page. Ordering the book is really straightforward and only really took me a few minutes to do. My Golden Ticket starts at £19.99, but there are a number of different options to choose from which can build the price. We chose a hardback book which took the price to £25.99. I then added a dedication and someone to go on the adventure with. With added gift-wrap and candy scent the final price was £30.99, but that really is the all singing – all dancing version of the book.
My Golden Ticket is beautifully illustrated, rich with colour with a stunning golden embossed cover. If you add the candy scent (which is something I recommend for an extra £2) they slip a scented postcard into your book. This gently wafts chocolate smells at you while you're reading. It's very clever and is brought to you by "Wonka Smell-o-Vision".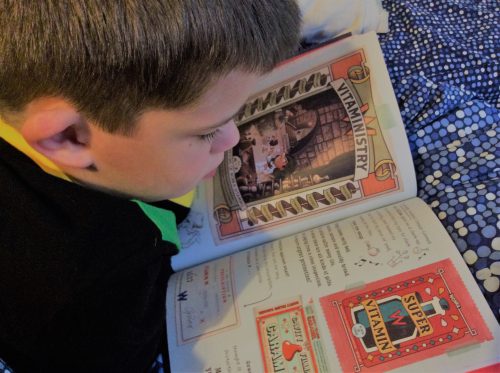 This beautiful (and I can't stress this enough, it is beautiful) personalised book would make a really magical keepsake for any child (or Wonka mad adult for that matter). It's the kind of book which we will bring out to read time and again for many years to come. It really is a very special book.
Disclosure: We were sent this My Golden Ticket book for review purposes. All images and opinions are our own.