About ten years ago we went to a very smart restaurant in the Lake District and had a pretty fantastic meal. For pudding my husband had Champagne Jelly and I was incredibly jealous of his light and refreshing pud. Being a vegetarian I was unable to tuck in, but he assured me that it was as good as it looked. Ever since then I've thought about making a veggie friendly Champagne Jelly but I'd never actually got around to doing it. This week I bit the bullet and made a beautiful, Alcohol Free Champagne Jelly using Eisberg Sparkling Rosé.
Eisberg Sparkling Rosé is a light and refreshing alcohol free sparking wine which is bursting with fresh, fruity flavours. It has 33 calories per 125ml serving and the alcohol is not more than 0.05%vol; making it great for those who might be counting calories, pregnant ladies who fancy a glass of fizz or for people who are just avoiding alcohol. This is also a drink, or a pudding which children could enjoy on a special occasion too. No one needs to feel like they're missing out!
Vegetarian Champagne Jelly Recipe
Ingredients (serves 4):
30g caster sugar
500ml Eisberg Sparkling Rosé
1 sachet of Dr.Oetker Vege-Gel (19.5g)
A handful of raspberries, or any fruit you like
Method
Measure out 500mls of Eisberg Sparkling Rosé and pour 200mls of the wine into a saucepan, add the 30g of caster sugar and start to heat through, stir to dissolve the sugar. Once dissolved, sprinkle the packet of Dr.Oetker Vege-Gel, bring to the boil and whisk the whole time.
The Vege-Gel sets very quickly, so once it's dissolved, add the remaining 300mls of wine and whisk. Take it off the heat when it starts to thicken and carefully pour into glasses or serving bowls, or whatever you're serving them in.
You might want to put a few raspberries into your glasses before pouring the jelly in on top. My jellies set very quickly, so you will need to move fast.  But you might want to pop them in the fridge for a few hours to make sure they're set firmly.
This was a really speedy dessert to make, with none of the faffing which comes with gelatine. Because it was vegetarian and alcohol free, we could all enjoy it, even my son! I love that it sets so fast it manages to capture some of the bubbles in the jelly.
The Alcohol Free vegetarian Champagne Jelly was an incredibly light and refreshing end to our meal. It would be perfect for a summer barbecue or a party. The fizz itself is delicious, I was very pleasantly surprised as I'm not usually a fan of rosé, but this is something I would happily serve my guests this summer, either as a drink or as a lovely fruity jelly.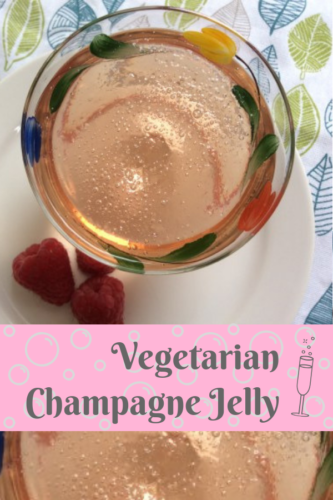 Note: I was sent some alcohol-free Eisberg Sparkling wines to try, all images and opinions are my own.
If you've enjoyed this recipe, you might also like my recipe for alcohol-free slow cooked beef in red wine.