When hubs recently reviewed a Scruffs Expedition Tech Jacket he fell a little bit in love with the brand. He really liked the quality of his jacket and how cosy it was despite being very lightweight. He's worn it to death over the winter and it's still looking smart. He was sent a Scruffs Expedition Thermo Gilet to try out, which was ideal now that we're moving into (hopefully) warmer weather, here's what we thought.
One surprisingly springy day we headed off to our local community farm. It wasn't warm enough for shirt sleeves so he chose to put on his Scruffs Expedition Thermo Gilet. It's a cosy but thin padded gilet which looks great with jeans and is easy to wear.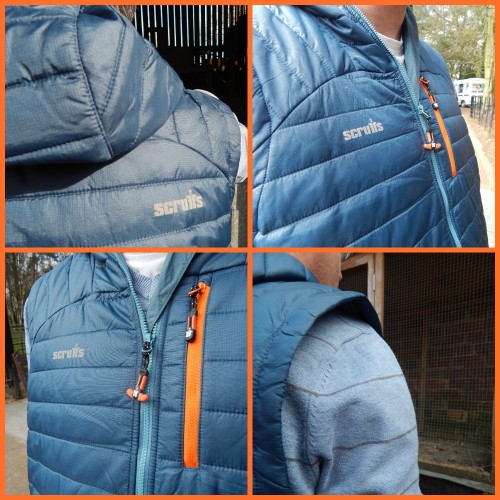 There are lots of large pockets which are handy regardless of whether you're out with the family or at work needing to keep useful things close at hand. It has a large hood which when pulled up would keep his head warm and snug against the elements if need be. Scruffs Expedition Thermo Gilet is generously sized, this is an XL and we thought there was plenty of room underneath for a nice thick bulky jumper.
The Scruffs Expedition Thermo Gilet uses 3M Thinsulate technology which provides a lightweight solution to keep your body warm. It is made with hard wearing mini ripstop fabric making this lightweight bodywarmer more durable. The gilet is available in black or blue, we chose the blue with the orange detailing. The stitching is good quality and it seems like a robust bodywarmer.
Matthew works in a building without heating, so in the winter it gets quite cold and never really seems to warm up until the hot hot days of summer. This is ideal for him to wear whilst he is at work, warm enough to help maintain his body temperature, but thin enough so that he can move about freely without it getting in the way. I think it's pretty smart looking too, ideal for casual days out with the family as well as for work.
The Scruffs Expedition Thermo Gilet is priced at £39.95 which we thought was good value for a gilet of this quality. With the thinsulate and ripstop fabric this should last longer than a high street equivalent and will keep him warm at work until summer eventually decides to arrive.
For more information, or to buy Scuffs Workwear, visit their website.
Note: We were sent the Scruffs Expedition Thermo Gilet free of charge for review purposes. All images and opinions are our own.