Christmas crafts are my favourite kinds of crafts. There's something really lovely about sitting down with my son and making decorations for the tree, or little gifts for people. I'm always on the look out for new products to craft with and when I saw the Sellotape Glitter Tape I knew straight away they would be perfect to make some Glitter Tape baubles with.
Sellotape are currently celebrating their 80th anniversary and they very kindly sent me some craft goodies to have a little play with. I love this vintage style Limited Edition Sellotape tin too. Perfect for holding some little crafty bits and bobs once I've used all the tape!
Sellotape began life in 1937 and has been used in a wide variety of applications since then. It became a regular at the crafting table in the 1970s when it was used fairly extensively on Blue Peter. This iconic sticky tape is a year round essential, not only for wrapping presents, but for all manner of crafting and DIY jobs around the home.
In my hamper of Sellotape goodies was an assorted pack of glitter tape. I really liked the different designs and it seemed a waste of something so glamorous to use the tape for just wrapping presents.
The glitter tape tears really easily, so you don't need scissors or a dispenser to use it. It was beautiful and shimmery, so I thought I'd see how it worked on a bauble.
The tape sticks really well to the styrofoam ball, but slightly raises at the edges, which creates an effect I actually really quite like. But if the cracked ice on a frozen lake look isn't your thing, then you could paint it all over with PVA glue to seal it all down.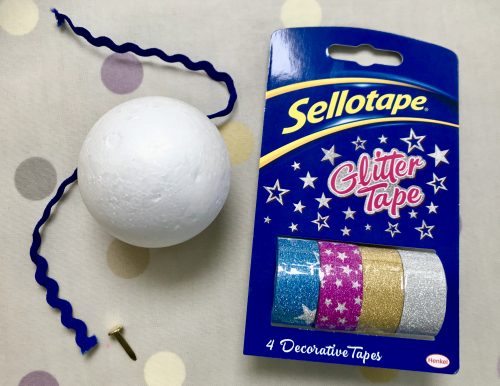 What I especially liked about this glitter tape was that the glitter stays on the tape. Not a speck of the sparkly stuff came off on my fingers, clothes or ended up shimmering on my face for three days. This sellotape glitter tape is really good stuff!
Make your own Glitter Tape Baubles
You will need:
A roll of sparkly glitter tape
One styrofoam ball
Ribbon
Brass paper fastener
How to make your Glitter Tape Baubles
The Sellotape glitter tape is easy to tear by hand. Tear small pieces of tape and stick in random places all over the styrofoam ball. Make sure the ball is completely covered in the tape; cup the ball in your hand and squeeze it to make sure the tape is in place.
Using the brass paper fastener; pierce the ribbon and create a hanging loop with your ribbon and press the fastener into the top of our bauble. Hang on your Christmas tree and enjoy.
Remember the tape does curl a little on the edges, but it doesn't come off. I've had my bauble hung up for a couple of days and it looks the same.
I really like my Glitter Tape Baubles, they're a bit different and look quite stunning when the light catches them. I enjoyed working with the glitter tape, which does not shed and tears really easily. Watch this space for more Christmas craft ideas!
We were sent a small hamper from Sellotape in return for this blog post. All images and opinions are our own.