My son is addicted to watching those egg opening videos on YouTube, which means he gets pretty excited when he's given a chocolate egg of his own. Give him a Kinder egg and he is one happy boy. I wondered if his enthusiasm for opening and eating chocolate eggs would translate into enthusiasm for making them. There was only one way to find out, we put a Chocolate Egg Surprise Maker to the test.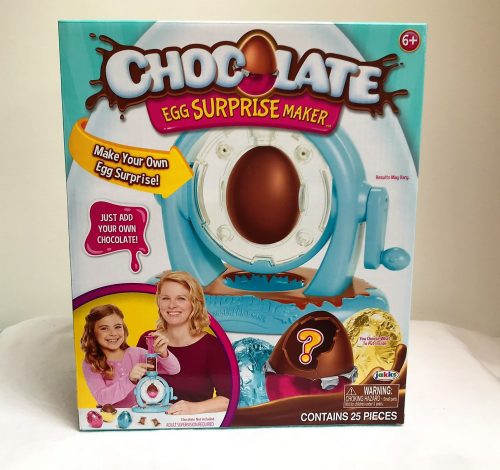 The Chocolate Egg Surprise Maker came with everything you need to make your chocolate eggs, except the chocolate, so we used some organic chocolate from Indigo Herbs as I'd been making chocolate that day.
The instructions are long and a bit too complicated for my six year old to process, so I sat down and read them through twice. You get two plastic pods and four egg "shells" which you put your surprise in before you make you egg. The kit also includes some small bags to melt the chocolate in, foil to wrap the finished eggs in as well as the egg maker.
The process is fairly simple, but we found the whole thing quite messy, so be prepared for that. Each plastic pod had a small hole in, presumably to ensure excess chocolate squirts out, but unfortunately when I spun the chocolate maker to make sure the egg was evenly coated, melted chocolate oozed out of the holes and flew across my freshly painted kitchen.
There are many stages to the egg making process and I'd heartily recommend that this should all be done under adult supervision. You put your surprise in the plastic egg, grease your pod, fill the syringe bag with melted chocolate. Clip your pod into the chocolate maker and squirt your chocolate into the pod. Turn the handle on the chocolate maker several times to ensure that the egg has been covered by chocolate and then put the pod in the freezer to set.
I'd heard that the eggs could be tricky to remove from the pods once they'd set, so I sprayed each pod with cooking oil, which did help them pop out. To set them I put the eggs in the freezer for the recommended half an hour, but they still weren't set so I left them for a couple of hours.
I was disappointed when we removed the eggs from the pods as the eggs weren't evenly covered with chocolate, which on closer inspection seemed to be because the chocolate had leaked out of the little hole. But we had made some chocolate eggs, so I wrapped them up in the foil and offered them out that evening for pudding.
My son was very excited to be opening his own Chocolate Egg Surprise. Unfortunately (and this could have been because of the chocolate I used but I couldn't be 100% sure) the chocolate eggs didn't crack open into two distinct halves and had to be scraped off the plastic egg with a spoon.
The Chocolate Egg Surprise Maker is aimed for children aged 6+. My son enjoyed the process and the thought of making his own eggs, but was ultimately a bit underwhelmed that they weren't as impressive or as easy to eat as bought chocolate eggs are.
I think if I had lots of time on my hands to experiment with different kinds of chocolate for this, it might have improved the outcome a little. It's worth remembering that this is a toy and not a piece of kitchen equipment. If you've got a patient child who enjoys process heavy activities and likes cleaning up after themselves, then they would probably quite like this.
We were sent this Chocolate Egg Surprise Maker for review purposes. All images and opinions are our own. Contains an affiliate link.