One of the best things we've ever bought for the small boy was a small portable DVD player. During our annual 7 hour schlep to Cornwall it provides an excellent back of the car entertainment service, plus it means that if he fancies watching his favourite shows in our TV-less cottage he can do so.
He's a massive CBeebies fan, and though his tastes have changed as he's grown up, he loves to watch The Octonauts, Peter Rabbit, Mike the Knight, Chuggington and The Clangers, amongst others. So the CBeebies All Stars DVD seemed a good bet.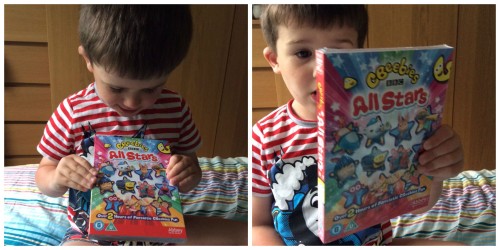 He was almost beside himself when the CBeebies All Stars Bumper Collection DVD popped through our letter box. Released on 7th September, and rated U, the CBeebies All Stars DVD contains over two hours of CBeebies fun, including the Twirlywoos, Peter Rabbit, Octonauts, In The Night Garden, Mike the Knight, Chuggington, Furchester, Dipdap, Cloudbabies, The Clangers and Topsy and Tim.
The CBeebies All Stars DVD is a great DVD for any CBeebies fan, with all of their favourites in one place – and it certainly kept him entertained on our long journey!
Follow CBeebies on Facebook here.