AD/Gifted. Dinosaurs have always been popular, especially in our house. My 8 year old spends a good chunk of his spare time reading and learning about dinosaurs. The Dinosaur Creativity Book is an activity book entirely devoted to all things dinosaur.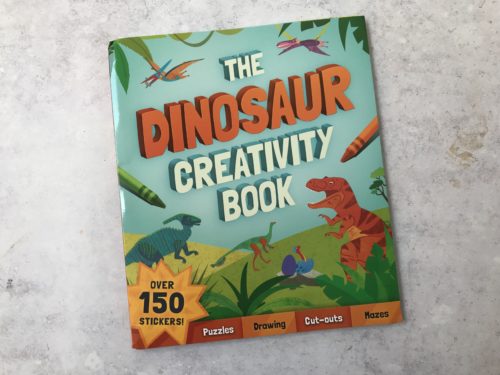 The Dinosaur Creativity Book by Penny Worms is suitable for ages 6+, costs £9.99 and is 80 pages of dino fun. Plus two pages of stickers. There is a brilliant glossy gatefold cover where you can create your own dinosaur sticker scenes with some of the 150 stickers included.
The book is  packed full of fun things to do; including a big dino quiz, how to draw dinosaurs, find the fossils, dino dot-to-dot and make your own mobile, plus lots, lots more!
There are so many things to do in this book, my 8 year old loved every page. He loves a good puzzle and a maze, he really liked the quiz and the pages of various dinosaur scales and pattern. There's lots to go at here and it's ideal for taking out and about and keeping them entertained during meals out of on holiday, as well as at home. The Dinosaur Creativity Book is a must for all dino fans!
There are several other books in the series from Carlton Books; The Space Creativity Book, The Dragons Creativity Book, The Unicorn Creativity Book and The Princess Creativity Book.
The Dinosaur Creativity Book is published by Carlton Books and costs £9.99. It is available online and from good bookshops.
Disclosure: We were sent a copy of The Dinosaur Creativity Book for review purposes. All images and opinions are our own.