With the barbecue season in full swing we were optimistically sent some fresh Ambu Tree Marinades to try; then the heavens opened and it rained solidly, Noah's Arc style for days. Thankfully you don't really need a barbecue to try the marinades out so we got stuck in.
There are three different flavours of Ambu Tree marinade; Mild Tandoori, Spicy Tandoori and Chinese Five Spice. Ambu Tree use freshly roasted and ground spices which really pack a flavour punch, they are also gluten and dairy free and contain no food colouring or harmful additives. The marinades are chilled, so need to be kept in a fridge, but they generally have pretty long dates on them and will keep for a few weeks in the fridge.
The pots look small, but they do go a long way, they say each pot is enough for 4-6 people and I think that's about right.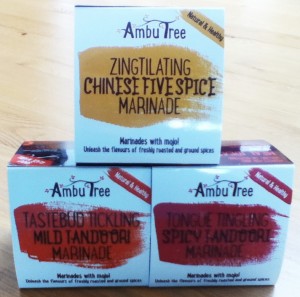 To use, I sliced up a large chicken breast, put it in a plastic box, added about two teaspoons of the mild tandoori marinade and coated the chicken. I did the same with the spicy tandoori marinade (we wanted to do a taste comparison). Because I'm veggie I just coated a Quorn fillet with each and I put all the boxed chicken and Quorn in the fridge for a few hours to, erm, marinade.
I cooked some in my griddle pan, the others I fried in a drop of oil. You could easily bake or barbecue them too. I served the tandoori chicken and Quorn in pitta bread with salad and homemade raita.
The mild tandoori was a really big hit, really flavoursome, there was some spice but it was a gentle, warming heat. The small boy (he's 3) loved it and cleared his plate. The bigger boy (he's 39) who is a spice junkie, preferred the spicy marinade. I enjoyed them both, but the mild was definitely my favourite. It was like no home marinade I've ever had, it tasted really authentic and complex, but also really healthy too.
The next night I made a stir fry. I marinaded the chicken and Quorn in the Chinese five spice. This was a bit runnier that the tandoori marinades, which were more paste like in consistency, it did make it easier to coat the chicken strips and it probably went a little bit further because of the consistency. Like before I fried the chicken and Quorn in a little bit of oil. I then topped each plate of veggie stir fry with the chicken or Quorn strips.
I really enjoyed the Chinese five spice marinade. It had a beautiful, deep, authentic flavour, I imagine duck would be fantastic marinaded in this. It wasn't spicy hot, it was a wonderful blend of flavoursome spices which we all enjoyed.
The Ambu Tree Marinades were a bit of a revelation to me. I've tried a few similar mass produced marinades before but they lacked a bit of marinade mojo and were a bit gloopy and artificial. These Ambu Tree Marinades are so packed full of flavour and fresh tasting, a little really does go a long way. The little pots are available from their online shop at £3.85 per pot. They're gorgeous and I hope they'll find their way to my local deli soon.
Note: I was sent the Ambu Tree Marinades for review purposes. All images and opinions are our own.