Last Updated on December 27, 2016 by HodgePodgeDays
Summer is here and the fruit bushes and trees in my garden are groaning with fruit. I've always loved jam making and making my own preserves and pickles, it's quite a lovely relaxing thing to do and in the depths of winter you have a jar of something summery to spread on your toast.
When I made my first batch of jam, I didn't have a preserving pan, my jam jars were a mixture of all sorts I'd rescued from the recycling bin and my labels were just plain sticky ones. It was great fun, but then I got the jam bug and realised if I wanted to be making decent quality jams then I'd need to get some proper kit.
A real essential is a stainless steel maslin pan. Firstly, they hold a lot of jam which is quite important, and secondly they're designed to help you make a better quality jam than you would in your biggest saucepan. With a heavy base and a wider rim which helps the jam reach a setting point quicker, a maslin pan is a real essential. I wouldn't be without my jam pan.
For jam makers, new or experienced, I really recommend the Lovejars site – Rosie's Pantry in particular which is ideal for the home jam maker. They have some really lovely and unique products in their Jarcessorise range – a whole new concept that appeals to the home preserver – you are only really limited by your imagination. All the elements to dress up your jars can be bought individually, or grouped together in collections or in super-cute Dressing Up Boxes.
Rosie has a really useful blog all about jam making and preserving and it's a fantastic resource for people wanting to try their hand at making jams and preserves. Her recipe site has lots of information and her recipes can be re-scaled by entering the weight of the main ingredient, so you can easily make more – or less depending on how much fruit you have. The recipes are optimised for mobile so easy to check details when you are out and about, especially if you've found a bargain box of fruit you can't resist jamming with.
I'll be learning more about jam making with Rosie over the next few months, I'll maybe share a recipe or two and some tips for dressing your jars to make beautiful gifts for friends and family.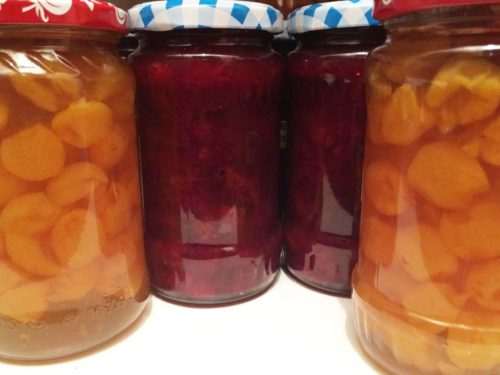 Rosie has very kindly given me a discount code for you all to use, just enter LOVEIT10 and the checkout which gives you 10% off everything on the Lovejars website, excluding carriage.