Last Updated on April 11, 2017 by HodgePodgeDays
Over the weekend the boys went off on an adventure. They were invited to Specsavers at Manchester Fort for the launch of the new range of JCB Kids glasses. It was the promise of getting up close and personal with a real JCB which tempted them; but a free eye test for the boy was also a big draw.
Eye health is something we take pretty seriously as a family. My husband has worn glasses since he was a child and I started wearing them last year. We know it's likely Ben will need to wear them at some point. Regular eye tests are important for a lot of reasons; not least because having them checked may alert you to a health problem you didn't know was there.
Children's eye tests are available for free from Spacsavers (on the NHS). If they need glasses, they get an under-16s' NHS optical voucher to put towards new glasses. Kid's glasses have come a long way since when I was a child. Although the thick NHS specs we dreaded back then are all the rage these days.
Matthew and Ben arrived at Specsavers and were both excited by the real JCB backhoe loader outside. It was even wearing its own giant pair of glasses. Ben was especially excited by the JCB Transformer. Who wouldn't be? It was an actual Transformer which changed from a JCB to a walking hero in front of his eyes!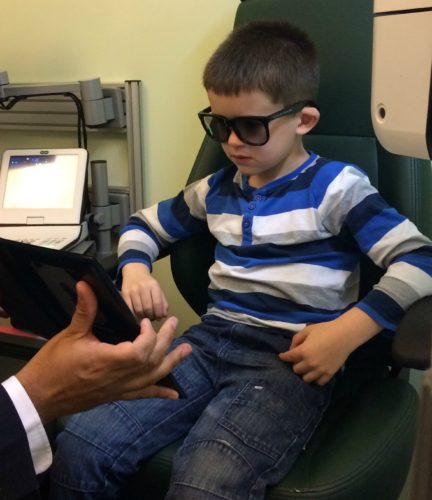 Aside from his school eye test, Ben hasn't had a proper eye test with an optician and it's been on my list of things to do for a couple of months now. I was a bit worried that he'd make a fuss and not co-operate with the optician, but he was great. He sat beautifully in the chair and did everything that was asked of him. It helped that the optician who was testing him was fantastic and patient with him. We'll be back next year!
Thankfully his eyesight is absolutely fine for now. We're so glad we got him tested, it's a weight off my mind at least.
I'm a bit envious of these JCB Kids glasses, they make my sensible glasses look a bit pedestrian. The JCB Kids glasses from iconic British brand JCB are tough, cool and created with adventure loving boys and girls in mind. All of the JCB Kids frames come with single-vision lenses including UV filter and are part of their kids 2 free pairs offer. You can view the full range here.
Looking after your eyes is so important. I'm so glad we got him tested, it's reassuring to know that his eyes are ok. We'll be taking him back next year for his annual test. It's worth remembering that children's eye tests and almost all of their glasses are available on the NHS free of charge.
You can find out more about children's eye tests and the JCB Kids glasses range on the Specsavers website.
We were invited guests of Specsavers and JCB Kids glasses. We received a goodie bag and a voucher towards eye-care as a thank you for attending.