Yesterday CBeebies came to film at our playgroup bringing the very lovely Alex Winters with them. Alex was so lovely, all the children loved him, some of them were a little starstruck, some of them recognised him but couldn't quite place him, but he was lovely, normal, unstarry and lots of fun. My son just kept pointing at him and saying "Beebies man".
Alex "worked the room" but then settled himself down at the craft table. The children were making woolly sheep with cotton wool. He did several pieces to camera and chatted with the children in between takes.
Alex was filming a series of information films for the CBeebies grown ups website. The segments he filmed with us were about doing craft activities with your child. He explained about how beneficial sticking and glueing and throwing glitter everywhere is to their development.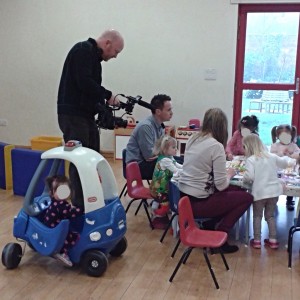 Some of the Mums and Dads were then taken to a separate room to be interviewed about doing craft activities with their children. I think everyone enjoyed meeting Alex and we all had fun making our woolly sheep. I think there will be disappointed faces when he's not there next week!
Look out for the film on the CBeebies website over the next few weeks.
Note: I had permission from the parents of the children pictured to use these pictures, some did ask that I blanked their faces out, thus allowing me to show off my very mediocre photo-editing skills.